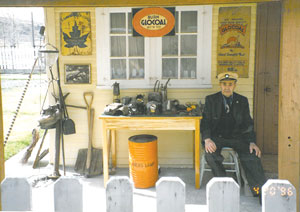 Fred Orosz shares the story of his father, Joe a man with a strong back and a will to work. He built a life for his family in the valley.

Joe was born in a small mining village in Hungary, two weeks after his father was killed in a coal mine, April of 1906. Growing up without a breadwinner for the family was a struggle.
Dropping out of school after Grade Three, his grandfather as much as sold him into an apprenticeship, to a shop where he was trained as a wheel maker. The term of the apprenticeship was 10 years. In 1925, at the age of 19, he was given his trade papers.
Three years later, in 1928, Joe borrowed $200 from his grandfather and bought a ticket from Canadian Pacific Ship Line to Canada, final stop, Lethbridge, Alberta.
Joe was taken in by a farm family, where the father worked in a mine in Shaughnessy, just outside Lethbridge. He was taken down the mine and was taught the basics, so he was able to pass the oral and practical test, to obtain his mining certificate in 1930.
Joe worked in mines around Lethbridge, and Nordegg before moving to Wayne in 1937. A group of miners' wives determined that, at the age of 32, it was time Joe was married. To that end, one evening he was summoned to a house, where he was shown six pictures of available potential wives, and it was suggested he choose one. The choice resulted in a marriage in Rabbit Lake, Sask.
They had only met each other three times before the wedding and Mary Balazsi was only 15. The union produced two sons, Albert in 1942, and Alfred in 1943. [Fact: Though, Father Joseph and Mother Mary had a son born Dec 24, Alfred is no holy man.]
In 1945, Joe moved his family to Nacmine, where he was the 12th miner taken on at the Commander Mine. Joe bought a two room miner's shack for $150.00, and began renovating the shack to accommodate his family: 1946, porch, 1954 living room, bedroom for the boys, and 1968 bathroom and laundry room. All materials for renovating came from Crown Lumber, or N.B. Vickers, on credit, or what ever could be used, or bought from the midnight C.P.R. box car store, [grain doors] was used in the house.
1954 brought a family break up. Joe's wife left in March. The resulting divorce forced the boys to be made Wards of the Court, and sent to St. Mary's Home for boys in Edmonton. At the end of June, the boys came home, and never went back, as Joe was given sole custody.
Life was hard for Joe, but his cooking skills kept everyone fed. A neighbour Mrs. Anderson stepped up to the task and gave as much mothering as she could, and her daughter was a sister to the boys.
As long as the light came on atop the tipple, to call Joe to work, he worked hard, and raised his boys with a firm hand.
In 1956, Joe bought a 1948 Fargo truck, and went five times to get his licence. In 1957, he upgraded to a 1956 Fargo, and in 1958, Joe bought the first new Rambler that Sparky's Auto Service sold.
Mining was slowing down, and the Commander closed. Joe worked in East Coulee, then Carbon, and finally had to go back to Lethbridge, where, in 1963 he was given a pension of $120 a month by the union, as there were no more mines to work in.
Joe had to adjust his lifestyle to live on a very small income. With the boys now gone, Joe did the things he knew best: planting a great and productive garden.
One of his best crops was poppy seeds, yes the opium poppy, as a great part of his diet included poppy seed buns, and poppy seed noodles.
In 1969, Joe spotted a motorbike, for $400, at the Supper Shell, and he made a deal with Don Dart and Dick Smeal. With the help of his son Fred, he learned to ride, and rode the bike in the summer months for 20 years, until at the age of 86 he had an accident, running into a car.
As luck would have it, instead of being charged with several offences, his driver's licence was revoked. He now was a customer of the Handi Bus, as he had broken a leg in the accident.
At the age of 89 Joe took a room in the Sunshine Lodge, where he enjoyed the rest of his time. Joe died from a stroke at the age of 92, March 1999.