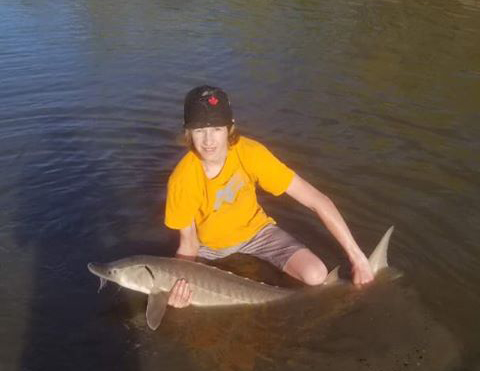 A Drumheller youth now has a fishing story that will last him a lifetime.
Cameron Schnurer is an avid fisherman, and along with his friend Kynan Perry were fishing for anything that would bite near the Rosedale Bridge on Saturday, May 16. He wrestled in a lake sturgeon out of the Red Deer River.
"I thought I had a big fish on and I told my buddy, and then it jumped completely out of the water," said Schnurer. "I told my buddy I had a sturgeon, and he didn't believe me."
After about a 40-minute battle he was able to land the fish. He estimated it to be about 4 feet long and weighing about 40 pounds. Schnurer tells the Mail, a Fish and Wildlife Officer was actually on the scene with them when he landed it, and this was the first time the officer had seen one.
"I had heard about people catching them back in the day, but not now," said Schnurer.
Lake sturgeon are the largest game fish in Alberta and are protected throughout the province. They can grow to over 7 feet and the Alberta record is 105 pounds. They can live to be over 100 years old.
They are one of the most ancient still living actinopterygian fishes. Schnurer says when he picked up the fish it felt like sandpaper.
While they are a rare sight today, there are quite a few fishing stories about catching them in the Red Deer River or seeing them swimming near the powerplant in Drumheller.
Kevin Blanchett recalls when he was just a young boy, he was hunting for frogs with his brother one spring along the river bank when a sturgeon came close and snatched up a frog right in front of their eyes, and then swam away with its dorsal fin sticking out of the water looking like a shark.
Another story he recalls is Gino Pozzo catching one and putting it in the bathtub so others could take a look at the fish.
Barry Pozzo confirms this. He said his father Gino had a line in one evening near Midland. His sister was riding her bike and saw the line moving. She went home and alerted her dad, he came out and pulled it.
This was in about the late 1960's so the sturgeon wasn't protected and a few days later Joe Clozza helped them clean and cut up the fish.
Now Schnurer has a story he can tell his grandkids, about the May Long Weekend he caught a sturgeon.