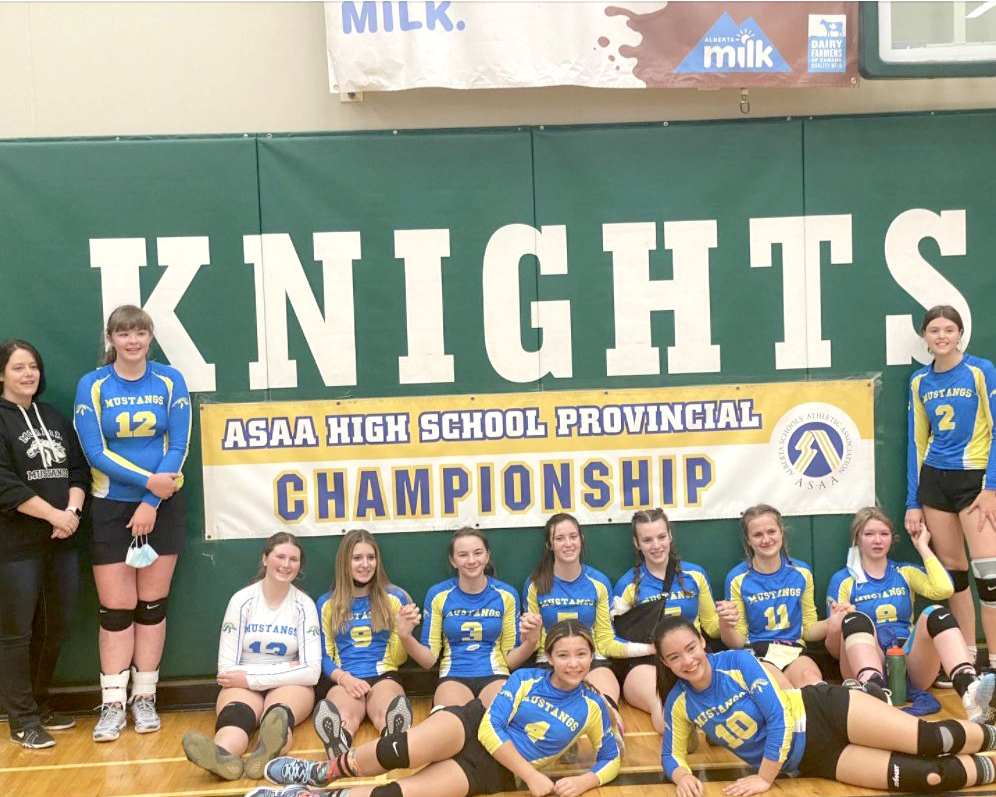 The Morrin Mustangs Senior Girls Volleyball team is coming off one of their best seasons in recent history, with a win at zones, and a respectable finish at provincials.
The Mustangs wrapped up their season at the 1A provincial championship at Central Alberta Christian High School (CACHS) in Lacombe on November 25-27.
On Thursday, the Mustangs faced CACHS and lost in two sets, but bounced back and topped Picture Butte in three sets. On Friday they were bested by Parkland Emmanual but beat École Des Beaux Lacs from Bonnyville. This put them in third place in their pool.
On Saturday they crossed over and faced Consort, who defeated the Mustangs. There were quality teams at the tournament with close matches. The teams that defeated the Mustangs went on to claim gold, bronze, and fourth place.
Coach Amanda Batty is very proud of the team throughout the season.
"They are, by far, the most positive, fun-loving group I have ever coached," said coach Batty. "They are never negative with each other, they are building each other up, and no matter what the score on the scoreboard is they find ways to have fun. We get comments everywhere we go. They are just a really special group."
This squad has been together for a couple of seasons. Last year while they had no senior players and a lack of playing time due to COVID, they developed their skills and team play.
This paid off with a win at Zones defeating Rosemary and earning a spot at provincials.
Batty says they have three players graduating and have five players coming up to the senior level next season. Because they had a short bench at provincials because of injuries, they brought up some Grade 9 players to play.
"I have been telling them all season how proud I am of them. Not even volleyball skill-wise, that has all been great, but just for the atmosphere they have created with each other, we've been more like a family than a team," said Batty.
The last time the Mustangs competed at provincials was 2015, and before that, 1996.