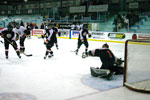 Drumheller didn't go down without a fight against Oyen on Friday night, November 7, managing to find the back of the net twice before the clock ran down.
Final score was 5-2 for the visiting team.
The Sports Room Midget 'A' Raptors spent most of the night on the offensive, but however it seemed it was hard for them to find an opening other than firing from the top of the slot hoping the puck would find its way in.