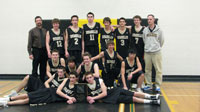 The DCHS senior boys basketball supremacy at the 2A level of basketball continues, as does their perfect record, following a tournament in Hanna.
The Dynos competed at the 12-team tournament on February 8 and 9 in Hanna.
In the first game the Dynos defeated Eckville 102 to 29 led by Gavin Pittman's 20 points.