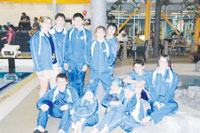 The Drumheller Aquadinnies attended their last meet of the season at the Alberta Marlin Aquatic Club long course invitational meet in Medicine Hat on April 24 and 25.
    Coach Sheila Martin attended the meet with ten swimmers from the club.
    Parker Knibb received 6 "B" times and one "A" time in his 100 M Freestyle event. Austin Knibb had 3 improved times. Alan Lister received 5 "B" times and a MQT in his 200 M Individual Medley. Sophia McDonald received a "B" time in her 50 M Breaststroke as well as in her 100 M Breaststroke. Other swimmers attending were Anna & David Gullacher, Sam & Emmett Hanly, Isabella McDonald, and Keely Martin all of whom had improved times as well.
    In July Michaella Clark will be attending Nationals for the Special Olympics Summer Games in London, Ontario. Best of luck to you Michaella!
    On Saturday, May 8, the Aquadinnies held their annual meeting and awards night. Some of the achievements included Rookie of the year Award: Marko Dobrich; Sportsman of the year Award: David Gullacher; Dileen Hempel Memorial Award: Nakita Maseka; Overall Aggregate Award: Brock Hoel; Points Trophy Award: Parker Knibb.
    The Aquadinnies participated in a lot of fundraisers this year including a car wash, BBQ, Co-op gift cards, bake sale and a swim-a-thon which enabled them to achieve a successful year.
    The Aquadinnies will break for the summer and resume in the fall.