The Drumheller Dragons have rekindled their playoff hopes after winning 3-2 in overtime over the Brooks Bandits on Tuesday night.
The game was a do-or-die situation for the Dragons. If they had lost, it would have meant an end to their season.
The Drumheller Memorial Arena was packed once again and the energy in the building was palpable.
In the previous three games, the Bandits had struck first, but in game four the Dragons set the tone of the game early on, keeping the play in the Bandits.
The Dragons would gain a 1-0 lead at 12:09 into the first and while shorthanded. Bryton Mills charged from the Dragons end and stuff the puck in behind Bandits goalie Michael Frederick.
Brodie Jamieson would increase the lead to 2-0 2:24 into the second period. However, two minutes later the Bandits would score one of their own to make the game 2-1.
The Dragons held on to the lead for the remainder of the period, managing to contain the explosive offensive potential of the Bandits.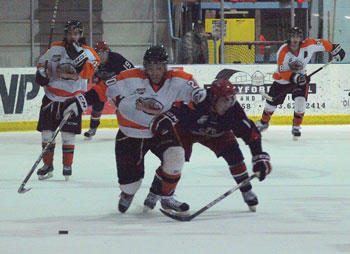 Bryton Mills had a monster game on Tuesday night, scoring the opening and game-winning goals, earning one assist, delivering a series of punishing hits to the Bandits, and earned a much-deserved player of the game.

In the third, the Bandits began to wear down the Dragons and gave Dragons goalie Adam Beukeboom more work than he had seen in the previous two periods.
The Dragons kept the lead until 14:15 into the third when, Shane Pilling, off a face-off in the Dragons end, sent the puck past Beukeboom. The game was tied at 2.
The Bandits, renewed from the goal, continued to pour on the pressure and the final two minutes of the third were played almost exclusively in the Dragons zone.
After a short intermission, the game headed to overtime. The Dragons came out fired up.
Their hard work paid off at 4:25 into overtime, when Bryton Mills sent a blistering shot through traffic to the back of the Bandits net.
The stands erupted with cheers as the Dragons kept their playoff drive alive.
The fifth game of the series will be held in Brooks on Thursday night.