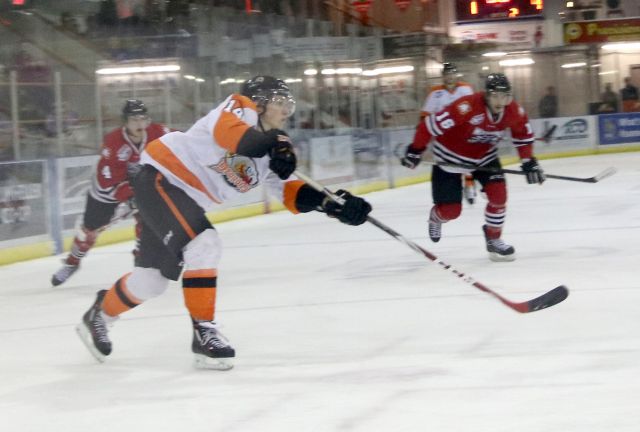 The Drumheller Dragons have ended 2015 in the win column. The Dragons headed on a road trip over the weekend to finish out 2015 and took one shootout loss and one win.
Saturday night the Dragons headed to Olds to face the Grizzlys. The Dragons opened the scoring early in the first period to take a 1-0 lead. Braeden Salverda gave the Dragons a 2-0 lead early in the second before Olds scored their first of the night. at 8:42 .
Mike Falanga scored for the Dragons to give them a two goal lead. With just over six minutes played in the third, Falanga scored his second of the night before Olds scored their second, bringing the game to a two goal difference. With five seconds left, Connor Boyd scored an empty net goal to give the Dragons a win for their final game of 2015.
On Friday night, the Dragons headed to Camrose to face the Kodiaks. Camrose opened the scoring taking a two goal lead before Keaton Holinaty was able to put the Dragons on the board at the end of the first.
Matt Muzyka made it a tie game on the power play at 1:13 of the second period. Camrose scored two more goals before Isaac Schacher scored for the Dragons leaving the game at a one goal difference. At 18:58 of the third period, on the power play, Levi Wunder scored for the Dragons to tie the game forcing overtime. With no scoring in overtime the game went to a shootout where Camrose took the 5-4 win.
The Dragons are now off until Saturday, January 2 when they will return to Camrose. On Sunday, January 3 the team will head to Calgary to face the Canucks. The Dragons first home game of the new year will take place on Tuesday, January 5 in Hanna, verses the Canmore Eagles, before they return home on Friday, January 8 to face the Brooks Bandits.
Game time in Hanna at the Hanna Arena on January 5 is 7 p.m. Game time on Friday January 8 is 7:30 at Drumheller Memorial Arena.