The Drumheller Dragons are building momentum following a big 6-3 win over the Sherwood Park Crusaders on Saturday, November 23.
The Dragons got off to an early lead with a great charge by Alex Bechtold, who passed to Ethan James, who scored the first goal of the night at 3:33 in the first period. Jarrell Pinchuk increased the Dragons' lead to 2-0 several minutes later.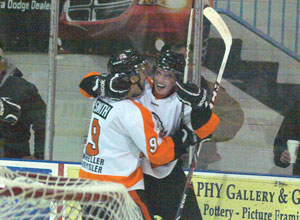 Ethan James, right, scored the Dragons first goal of the night in their 6-3 win over the Sherwood Park Crusaders. The Dragons will be looking to keep their winning streak alive this weekend on the road versus Lloydminster. They return home on December 7 and 8 to face the Olds Grizzlys and Fort McMurray Oil Barons.
The Dragons were in control most of the first, but gave a little ground during the later half of the period. The Crusaders took advantage of a powerplay opportunity after Dakota Zaharichuk was given two minutes for roughing.
In the second period the Dragons dominated, scoring three more goals. Zaharichuk, Christopher Rauckman, and Mitchell Cook rocketed the Dragons to a 5-1 lead.
"The first 10 minutes we played well, but then I thought Sherwood Park outplayed us the last 10 minutes of the period. After that, I think we played a very good second period," said head coach and general manager Brian Curran.
"We did a lot of good things. Our goaltending and powerplay were strong, and I think our penalty kill, even though they got scored on, did a great job."
Rauckman would give the Dragons a huge boost with a shorthanded goal at 4:26 in the third period. The Crusaders did manage to make some headway in the final 10 minutes of the game, adding two more goals, but it wasn't enough.
"It was one of our better games. We needed to see that, especially at home," said Curran.
The win gives the Dragons 32 points. They are currently in third place of the AJHL Southern Divison and one point behind the Okotoks Oilers.
The Dragons, along with the rest of the AJHL have some tough decisions ahead. By December 1, all teams are required to have a maximum of 23 players. The Dragons will have to cut a few players from their roster.
"By December 1, we have to be down to 23 players," said Curran. "You have to watch chemistry and you can't mess it up. We have enough that we can play four strong lines. I don't think we're going to do much up front, but with the injuries on our defence, we're going to have to make some big decisions."
The Dragons are in action again this weekend. They head on the road to face Lloydminster on Friday. Their next home game is December 7 against the Olds Grizzlys.