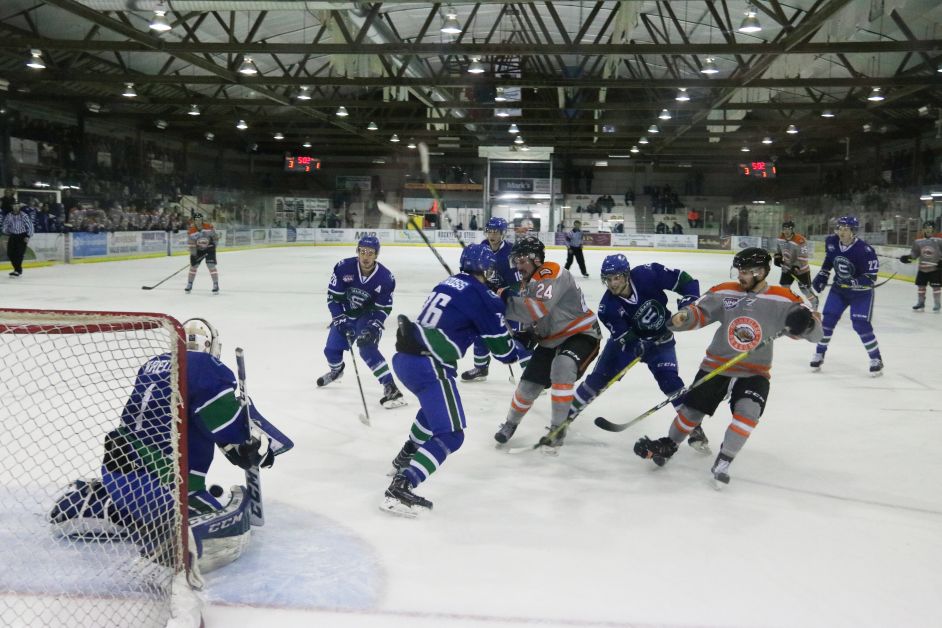 In a season filled with trials, the Dragons were able to push the Calgary Canucks to five games, and despite a bowing out in the first round of the playoffs, the season ended on a high note.
The 2017 season came to an end for the Dragons last Wednesday night, March 15 at the Max Bell Arena. The Canucks led by one after the first period. And then four minutes into the second period, Calgary scored their second. Drumheller continued to outshoot the Canucks, however it took until the last two and half minutes of the second period before the Dragons got on the scoreboard as Cody Young scored on the power play.
Calgary scored four minutes into the third period but three minutes later Tyler Kreklewich scored his tenth of the season. That was as close as the Dragons would get as Calgary would score two more to win 5-2.
By Friday the Dragons were wrapping up exit interviews and fitness testing. Coach Darryl Olsen is sending off a group of players that were tested physically and mentally through a season of turmoil.
"There were so many ups and downs throughout this season. When I took over the team, talk about a trying season, I had nine of my regular players in the stands and we went 12 games without a full roster," he said. "The whole time I was coaching, I didn't have a full line-up."
By playoff season the Dragons had 20 dressed and a full week of practice. He was impressed with how the players reacted.
"We all just gelled together and the boys really worked hard with the systems I was implementing," he said. Only part of the challenge was on the ice.
"After coach Curran got fired, it was just getting them back on the positive side of life and getting them excited about being a Drumheller Dragon again," he said. "By taking the Canucks all the way to Game 5, those boys are excited and want to come back and be Dragon, which is awesome."
"I am very proud of what I did in the short period of time we had. We brought an exciting brand of hockey back to Drumheller," he said. "And talk about being the youngest team in the league? These kids had to grow up fast."
He adds that with how this group of young players is developing, he believes they could be an RBC Cup contender.
Spring camp is just around the corner for the Dragons, beginning on March 31 in Drumheller. They will also be heading north to Fort Saskatchewan for another spring camp.