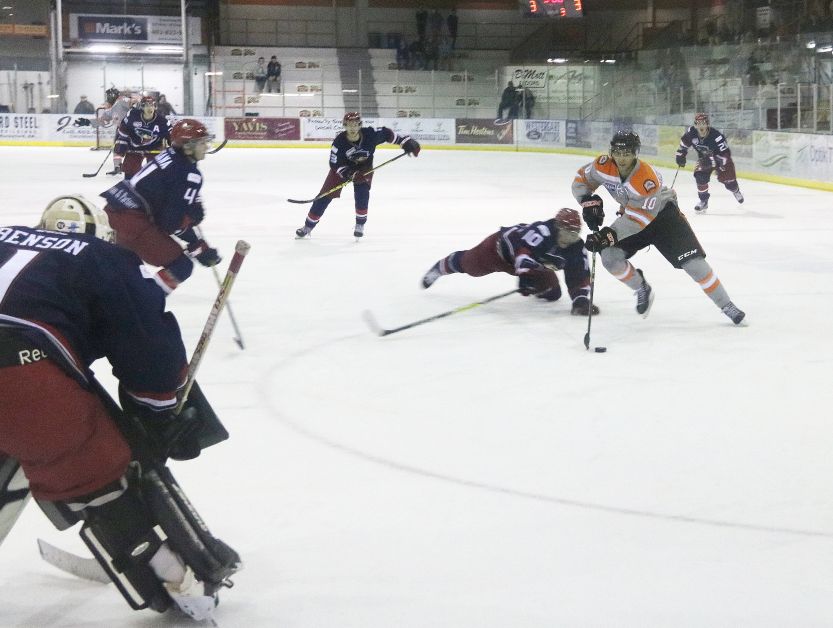 The Dragons battled back against one of the top teams in the league for an overtime win Wednesday night.
The Dragons hosted the Brooks Bandits, who were sporting the league's best win record and an eighth place ranking in Canada. The Dragons came out strong and 10 minutes in, Markus Boguslavsky opened the scoring on the power play, ending the first period up 1-0.
It didn't take long for the Bandits to react and in the second period they outshot the Dragons 16-8. They scored three quick ones before Brett Campbell made it 3-2, to end the second period.
The Bandits continued to pour on the pressure with a 17 shot pe-
riod, however, it was the Dragons who tied it up on the powerplay. This time Joren Patenaude scored to even it up.
The Bandits had a great opportunity with seven minutes left when Tyler Kreklewich went to the penalty box, but Hunter Virostek stood tall in net versus the Bandits' potent offense, and the game went into overtime. Just 49 seconds in, Jordan Taupert went over the Bandits goalie's left side to win the game.
The Dragons were 50 per cent on the power play and held the Bandit at bay with five successful penalty kills.
This was a positive start for the Dragons who have a tough weekend ahead. This Friday night, December 9 they host the Sherwood Park Crusaders, who are holding on to fifth place in the Viterra AJHL North, and then on Saturday, face Bonnyville at home. The Pontiacs are second in the north with a 23-7-3 record.