The Drumheller Dragons seem to be turning things around, getting a crucial win this weekend after suffering through a six game losing streak.
Over the weekend, the Dragons were in Spruce Grove for the annual AJHL showcase. On Friday, they lost their first game of the showcase 4-3 to the Grande Prairie Storm, but finished the weekend with a 4-2 win over the Sherwood Park Crusaders.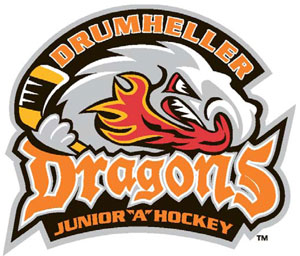 Versus the Storm, the Dragons were on the defensive and fell behind early on. At 8:24 into the first period, Dragons newcomer Lindsay MacLellan was sent away for roughing. The Storm were able to take the lead 14 seconds later with a powerplay goal past Dragons goalie Curtis Skip.
The Storm followed with a second goal immediately after the next face off, 12 seconds later.
A powerplay goal by the Storm two minutes into the second period gave the Storm a 3-0 lead.
Mitchell Cook gave the Dragons their first goal of the night just under two minutes later. Early in the third, the Dragons tied things up with back-to-back goals by Dakota Zaharichuk and Christopher Rauckman. However, it didn't last and the Storm scored again under a minute later to make it 4-3. They would hold the lead, despite a flurry of shots by the Dragons.
The Dragons broke their six-game losing streak the next evening against the Crusaders.
The Dragons changed their lineup slightly for the game, putting Steven Glass in net.
The Crusaders made the scoreboard first at 13:27 after Robin Yew was sent to the box for hooking. However, Cook got a powerplay goal of his own soon after to tie the game at 1-1.
The Crusaders would take a tenuous 2-1 lead at 1:26 in the second, but the Dragons Dallas Smith tied the game up again.
The Dragons gained a significant morale boost and the game winning goal at 12:58 into the second with a short handed shot by Hunter Mills.
The Dragons would hold on to a 3-2 lead in the third, despite the Crusaders onslaught of 16 shots on Glass, compared to the Dragons 3 shots in the third. Glass and the Dragons would hold steadfast even when the Crusaders pulled their goalie in the final minute for an extra attacker. Rauchman would put the game out of reach with an empty net goal to make it 4-2.
The Dragons return to home ice on Friday when they host the Spruce Grove Saints.