The banquet hall at the Badlands Community Facility was packed on Friday night as some of the NHL's most decorated alumni were in town for the Drumheller Dragons Evening With the Stars.
Fans had the chance to mingle with and take their picture with legends Marty McSorley, Claude Lemieux, and Brian Trottier, and announcer Jim Ralph.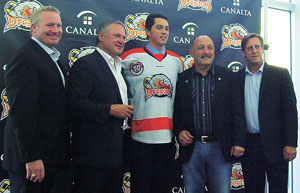 Marty McSorley (left), Claude Lemieux, Dragons defenceman Cody Fiala, Brian Trottier, and Jim Ralph at the Dragons Evening With the Stars on Friday, September 20. The NHL legends regaled hockey fans with stories, posed for photos, and took some time during the day to help impart some advice on the Dragons players.
The Dragons players were awestruck, having the chance to meet and learn from the trio of NHL alumni.
"It's a pretty cool experience. We can learn a lot from them. To see them face to face is pretty amazing," said Dragons forward Hunter Mills.
Prior to the evening, McSorley, Lemieux, and Trottier had a chance to hang out with the Dragons during practice and impart some words of wisdom.
"I've been in a lot of buildings, so when I walked into the rink tonight, I went into the middle of the ice and looked around to get a feel for what it is like when the building is full of people and the kids are out playing hockey," said McSorley.
"My message to them was to be good professional, and by that I mean be prepared and make sure your teammates can count on you. Seize the moment and use every moment to improve and prepare, and know that you've given it your best, so, at the end of the day, you can be proud of what you accomplished."
Lemieux had a similar experience when he was younger and understands the importance of visiting up and coming players.
"I grew up in a small town myself and I remember some former Montreal Canadians visiting coming to our youth tournament. It was a really big deal and I think it's great we can give back and do the same now," said Lemieux.
The lessons were taken to heart by the Dragons.
"You need to work hard to go places, you can't take anything lightly, and practice, practice, practice," said Mills when asked what he remembered most.
Newcomers Alex Elliot and Cody Fiala were similarly impressed.
"Marty said seize the day, take an opportunity," said Elliot.
"Be a professional on and off the ice, know who you are playing against, know their stats, and everything else before you play," said Fiala.
For McSorley and Lemieux, this was their first visit to Drumheller.
"It's my first visit to Drumheller and I really found it wild. You do a little research and find out about the historical factor, like with the (Tyrrell) Museum. I talked to my kids and they were all fired up," said McSorley.
Trottier had passed through many years ago and was glad to come back to inspire the Dragons.
"We've been in their shoes and know what an important step it is in their careers. It's also a fun time for the community," said Trottier. "Hopefully it'll fire up the kids a little bit. There were a couple things we told them. We know they're young athletes and they want to learn and advance."
For the Dragons organization, the evening was a huge success. Plans are already being made for next year.
"We had huge community support and we're absolutely thrilled with how everything worked out. We had more people in attendance ticket wise over last year," said Pam Hartman, sales and marketing manager for the Dragons. "We are thrilled we can offer something like this to Drumheller. We're looking forward to next year."