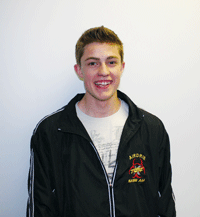 A Drumheller hockey player has his sights set on the future, and the future may be in Chilliwack.  
Sean Davies, 14, son of Ray and Janice Davies went in the seventh round of the WHL Bantam Draft. The 143 over all pick has committed to the Chilliwack Bruins. There is a chance he could play one day with Tyler Stahl, another Drumheller skater who has played 59 games with the Bruins last season. Former Dragons goalie Braden Gamble is also on the roster.
Sean is excited at the prospect of playing with the Bruins. He said of the teams that showed the most interest in him, he was most interested in Chilliwack. While the team is only heading into its fifth season, it is backed by an ownership group of hockey names including Glen Sather and Brian Burke. They are also coached by former NHL'er Marc Habscheid.
Davies played last season for the Airdrie Xtreme and had nine goals and 10 assists as a defenseman. He is quick on his skates and moves the puck well. He also has the size needed for a defenseman. 
He played for the Central Thrashers at the Alberta Cup from April 21-25, a showcase of the top 160 bantam players in the province. Because the Thrashers were short of forwards, Davies had to adjust to playing not in his regular position. The Bruins looked beyond the Alberta Cup performance and he was drafted as a defenseman. He was also on the Alberta Major Bantam Hockey League's Allstar team.
It may be a couple years until Davies wears the Chilliwack "C" on his jersey. At 14, (15 in June) he will attend the Bruins' camp, but is trying out to play with the AAA Midget UFA Bisons in Strathmore. His long-term goal is to play at the professional level.