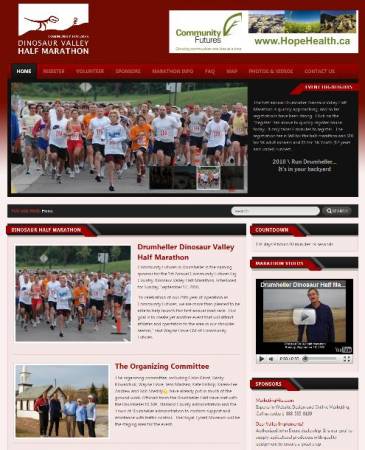 Runners can now sign up and take on the Dinosaur Half through its newly launched website.
The Drumheller Mail announced the Big Country Community Futures Dinosaur Valley Half Marathon in its March 31 edition. The event is slated for September 12, 2010. The race is planned to become an annual event, and this year is to mark the 25th anniversary of Community Futures. Any profits made by the event are directed at the Badlands Community Facility. 
Now potential runners can sign up as the event's website is up and running. 
All the information needed to participate or learn more is at www.dinosaurhalf.com. Here potential participants can register for the event, or get involved as a volunteer. There is also information on how to become a sponsor for the event. 
The website also has a detailed map of the route which starts at the Little Church and heads directly north up the gravel hill to Fox Coulee, and then will head east past the airport. It will proceed down into the valley where it will join up with Highway 9, travel down the "North Hill" into Drumheller, and then head back west to end at the Royal Tyrrell Museum.  
Spectators will have a great opportunity to view the race along Dinosaur Trail.
Along with event information, there are also links to other running resources such as training schedules, clinics and even ways to make your run a fundraiser for charity. There are also links to local resources such as accommodation, photos and a virtual tour of the valley. 
According to the website registrations are already strong, and signing up online takes just minutes. Those who register before August 1, 2010 will receive a T-shirt. 
For more information go to www.dinosaurhalf.com