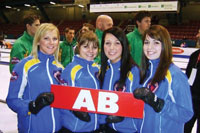 Team Chyz is back, more determined than ever, from the 2010 M & M Meat Shops Canadian Junior Curling Championships, which took place in Sorel-Tracy, Quebec on January 16-24.
The team, which includes Carbon resident, Rebecca Pattison, played well and ended up tied 4th out of the 13 women's teams, with 8 wins to 4 losses.
"We will definitely try for it again next year, it was a really great experience being able to play at that level!" exclaimed Rebecca who plays third for team Chyz.
It was a close call as they lost in the tie to get to the semi-final to BC who ended up making it for the finals.
Rebecca told The Mail what the most challenging part was for her, "we had a few tough games so we had to learn from them and come back to the next game. We did it pretty well but it was definitely one of the hardest things to do, because if we had a bad game in the morning and then try and get everything together for a game in two hours, it was difficult but we ended up not too bad, we managed to come back and win our next game."
There was no time for sightseeing for the girls in Sorel-Tracy but they still got to experience the different culture. "Everybody spoke French but they were very friendly and tried to help you out as much as they could," explained Rebecca.
Rebecca's personal highlight was to be picked for the second All Star team thanks to having the second highest percentages throughout the week.
As only one member of the Chyz team will age out next year, the team is hoping to try for next year.
Ontario were the overall winners as both the girls, team Homan and boys, team Walker, won the Canada Junior Championships, with team Homan undefeated throughout the championship.
They will now represent Canada in the world's junior championship starting on March 6 in Flims, Switzerland.