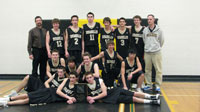 The DCHS senior boys basketball supremacy at the 2A level of basketball continues, as does their perfect record, following a tournament in Hanna.
The Dynos competed at the 12-team tournament on February 8 and 9 in Hanna.
In the first game the Dynos defeated Eckville 102 to 29 led by Gavin Pittman's 20 points.

In the second game the Dynos played Webber Academy from Calgary, and defeated them 100 to 45, led by Mitch Smith's 21 points and 15 rebounds and Chad Molzan's 19 points and 12 rebounds.
In the semifinal the Dynos met host school the Hanna Hawks, and defeated them 95 -74, led by Mitch Smith's 30 points and 10 rebounds, and Chad Molzan's five rebounds and six steals.
In the final, the Dynos defeated Rimbey 85 to 62 led by the sharp shooting of Kyle Masson and Gavin Pittman.
This win followed on the heels of a league victory over the Acme Redmen on Wednesday, February 3, despite a 43 turnover night and some poor rebounding.
The Dynos started sluggish, which resulted in Acme taking a 20 to 16 first quarter lead. The Dynos fought back in the second led by Gavin Pittman's 10 points in the quarter and some pressure defense to go into half, tied at 35.
The Dynos exploded in the third outscoring the Redmen 34 to 12, sparked by a commitment to team defense, ball control, and some solid shooting by Gavin Pittman and Mitch Smith. The Dynos managed to go up by 30 points with three minutes remaining, however Acme continued to fight and managed to close the gap to 16 before finally going down 85 to 69 to the Dynos.
The team continues action this week, going to PCA on Wednesday, and off to Strathmore on the Valentine's Day weekend.