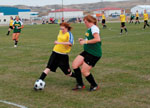 The St. Anthony's Sabres finished in third place at their first ever-senior girls soccer tournament.
In fact, many questioned whether this was the first ever tournament of its kind in the province.
The Sabres hosted teams from Chestermere, Strathmore, Okotoks and Canmore on Friday, October 3 and Saturday, October 4 in Drumheller.
"I was happy with the results of the tournament, looking at how teams played against each other, because I wasn't sure how it was going to balance. But just about every game was competitive and close which is good," said Makse.
The Sabres first went up against Canmore and claimed their first victory, winning 1-0, with the goal scored by Megan Duncalf. Their next game saw them play Chestermere to a 1-1 tie. The Sabres however won the tiebreak.
Next they played Strathmore. Last week, the two teams met in exhibition play and last time Strathmore was victorious. This time the teams played to a nil-nil tie. Again the Sabres won the tiebreak.
In their final game of the tournament they played Holy Trinity Academy of Okotoks. Again they played to a no-score draw. This time Holy Trinity Academy won in the tiebreak. They also went undefeated in the tournament to win first place overall. Chestermere claimed second.
Makse was very happy with how the team played.
"We never lost a game, and we conceded only one point for the whole tournament," he said. The whole team improved immensely with every game; their individual play, their team play as well as the technical aspects of the game."
Goalie Kelsey Christal was the Sabres' MVP for the tournament.
"She was phenomenal. She made some great saves and some great plays," said Makse. "In the shootouts she made some amazing saves."
Organizers hope to make the tournament an annual event, and are grateful to the Drumheller Dairy Queen for sponsoring the plaques and MVP medals. They are also grateful for the referees who officiated on short notice.
The team is hoping to set up a couple of exhibition matches leading up to the zone final on October 24 and 25.