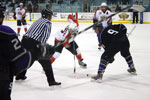 The Drumheller Dragons played their first two games of the season last Friday and Saturday night, September 5 and 6.
The season's opening night was a tense battle with the Sherwood Park Crusaders, with a crowd of 1273 at home. The Dragons were down in the first period, but evened it out 5-5 by the third. The Dragons fought valiantly, having over a dozen more shots, but Sherwood scored in the last half of the third, resulting in a 6-5 loss.
On Saturday, the Dragons played the St. Albert Steel at home, to a crowd of 723 people. Although there was no scoring in the first period, Sherwood scored five goals in the second, and two more in the third as well did the Dragons. The final score was 7-2 for the Steel. St. Albert's goals did not come easy though, the Dragons did well in the first and third periods.
The Dragon's next game is in Calgary, versus the Canucks on Thursday, September 11. The next home game is Saturday, September 13.