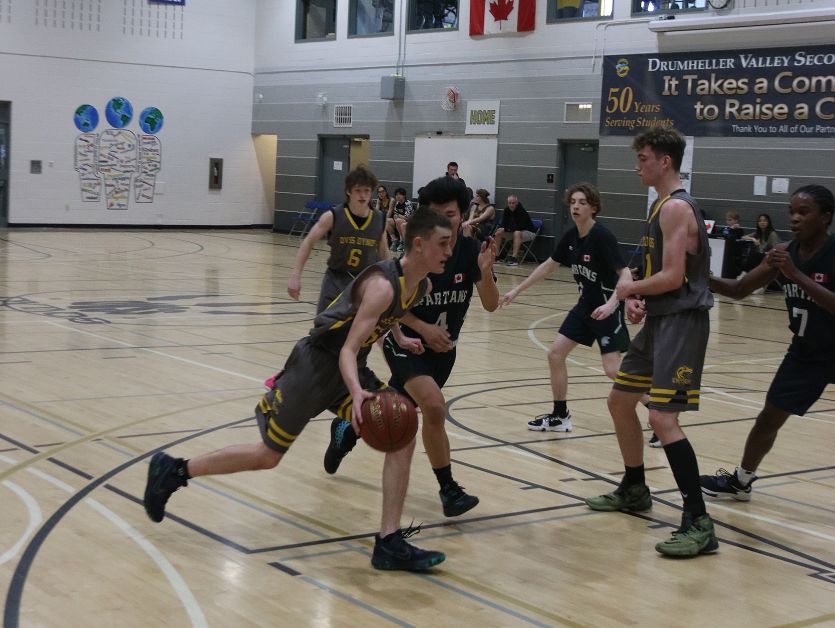 The DVSS Senior Boys basketball team wrapped up its season with a league championship and a strong showing at zones.
On Monday, March 6, the Dynos hosted the league championship versus Prairie Christian Academy of Three Hills and pulled off a big win, capturing the championship after a season of great basketball.
On Friday and Saturday, March 10 and 11 DVSS hosted the 2023 2A South Central Zone basketball championships. The Dynos were ranked second going into the tournament and played Notre Dame Collegiate from High River in their first game Friday night. DVSS played well and went on to a 103-78 win.
This put them up against the Strathcona Tweedsmuir School Spartans of Okotoks. It was a close game, but the Spartans opened up a 19-point lead after three quarters. The Dynos mounted a comeback and pulled to within seven points, but the clock was their biggest opponent and the Spartans went on to a 95-88 win.
This put the Dynos in the third-place game to take on Hugh Sutherland of Carstairs. Another close game but this time Hugh Sutherland took the 90-79 win.
St. Joseph's Collegiate was ranked first going into the tournament and took home the championship Saturday night.