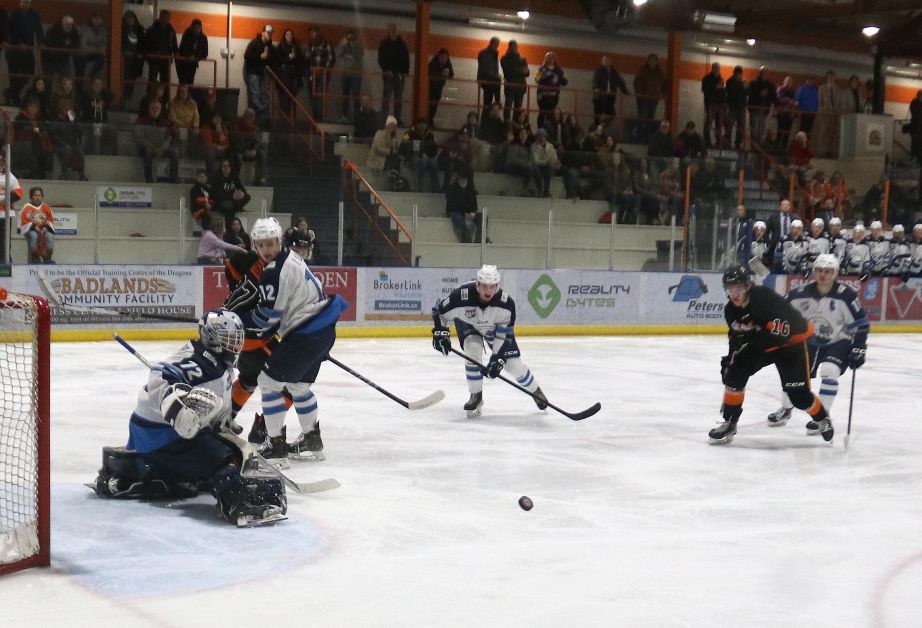 The Dragons ended the weekend tied at one game a piece in their first-round series versus the Canmore Eagles, and they had momentum going into Tuesday night's game 3 in Canmore.
The series opened on Friday night, March 10, on the wrong foot as the Eagles scored just 22 seconds into the game. With 55 seconds left in the period, however Caleb Willms evened it up. Canmore took the lead in the second, but Connor Poffenroth tied it up again. Canmore found the net before the period was up, leading 3-2.
In the third, Canmore put some more space between the two teams, but Will Christian made it 4-3 by the midway point. Despite mounting pressure by the Dragons at the end, Canmore took the win.
The Dragons put the loss behind them on Saturday and came back stronger, outshooting the Eagles 33-14. Canmore scored first, but Ty Witford tied it up by the end of the first period. Ty Daneault and Will Christian added two in the second period to make it 3-1. Jacob Goudreau scored six minutes into the third and Daneault added his second of the game with five minutes left to end up 5-1.
The Dragons were in Canmore on Tuesday, March 14, results were not available at press time, and Game 4 is tonight (Wednesday, March 15). Game 5 is this Friday, March 17, at Drumheller Memorial Arena.