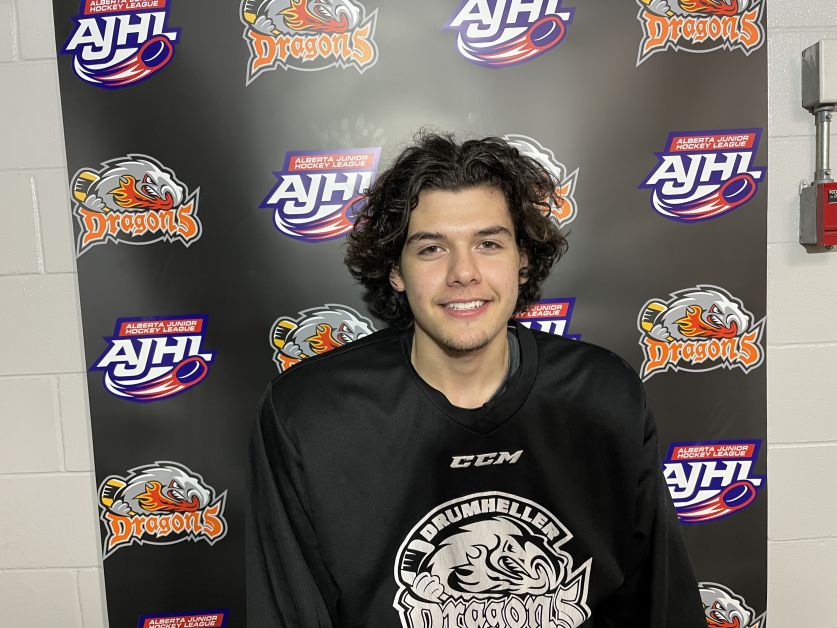 Another Drumheller Dragon will be taking their career stateside as Easton Adrian has announced his commitment to play Division I hockey at the Rensselaer Polytechnic Institute (RPI) in Troy, New York.
The Dalmeny, Saskatchewan native has been one of the highest-scoring rookie defencemen in his first season in the AJHL. He sits in the top 15 in league scoring for defencemen, leads all 2005-born defencemen in scoring, and is currently the Dragons highest scoring defenceman. He will be a welcomed addition to the RPI Men's Hockey team, which is currently ranked the 22nd-best program in the nation.
"They play in the ECAC, so they are with the …Ivy's I just took a visit and I was very happy and comfortable with them. Obviously, they are a historic team and have won a couple of national titles," he said.
He currently leads the Dragons in rookie scoring and raved about the role that Head Coach, Kevin Hasselberg, and the Dragons organization played in his commitment.
"My time with Drumheller has been instrumental in making me so much better. The coaching staff and my teammates have played such a large role in my development and I would like to thank Kevin for bringing me in and taking a chance on me." Adrian also credits his family for supporting him and helping him reach his dream to play NCAA Division I hockey.
Easton Adrian now joins the long list of committed Dragons players, as he joins current Dragons Ty Daneault (Merrimack College), Vann Yuhas (Merrimack College), Coy Pighin (Colorado College), Kai Matthew (University of Denver) and Noah Danielson (University of Western Ontario). The Drumheller Dragons organization has now helped over 70 student-athletes reach their dreams of playing collegiate hockey.