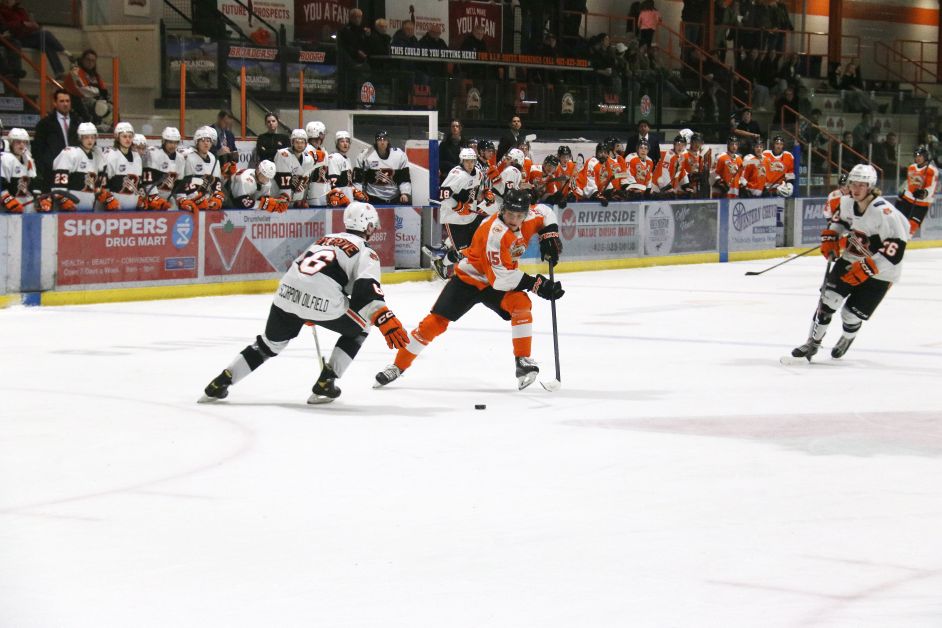 Hockey players in the valley are on their Christmas break after completing the first half of the season, playing hockey and learning the game.
The U11 T3 Drumheller Wiart Dirtworks Raptors are playing strong hockey and have a 5-1-1 record. They have claimed victories over Airdrie, Didsbury, Crossfield and Cochrane. They have split with Cremona and tied Crossfield. They have seen some great individual performances, including Isabelle Gross who is leading the team with 12 points. Liam Wiart has racked up 11 points.
The U11 T5 Ramada Raptors are also having a great season and are undefeated with an 8-0 record. Lewis Leavitt leads all players with 35 goals and six assists. McCoy Mulgrew has racked up 36 points with 25 goals and 11 assists and Stryker Phillips has 17 goals and eight assists.
The U13 2 Home-Town Realty Raptors are playing strong hockey in a competitive league, picking up wins over Brooks and Indus. Jasper O'Dwyer leads the team with seven goals and one assist for eight points. Spencer Holeman has seven points with three goals and four assists.
The U13 T4 Canalta Raptors are another undefeated Raptor team with a 7-0 record. Levi Merrill leads all scorers with 22 goals and four assists. Nikolas Hewitt has 18 points coming off 15 goals and three assists.
The U15 T3 Western Chevrolet Raptors are playing strong hockey and have a 5-4 record, with wins over Cochrane, Camrose and the Thunderstars. Adrian Candelaria has 16 points from 12 goals and four assists and Kayden Bitz has 13 points with a balanced six goals and seven assists.
The U18 T3 React/ DT Fire Raptors are playing .500 hockey with a 3-3-1 record, with wins over Red Deer and Stettler. Their one tie came at the hands of Hanna. Tanner Moulton has nine points off two goals and seven assists, and Gavin Olsen has eight points. The top scorer is Kerric Chambers with 5 goals.
There's still lots of hockey left for the local teams as the schedule ramps back up in January.
"The commitment means so much to me and my family because I've been working towards this my whole life. It makes me very thankful for all the support I've gotten along the way," he said.
He is one of many Drumheller Dragons who have pursued playing in the NCAA.
He credits the organization and raves about the impact his coaches and teammates have had on his development and getting him prepared for the next level.
"The coaches are top-notch and will do anything for you to succeed. My teammates and billets have been amazing to me since I've joined Drumheller which has been a huge part of my success," he said.