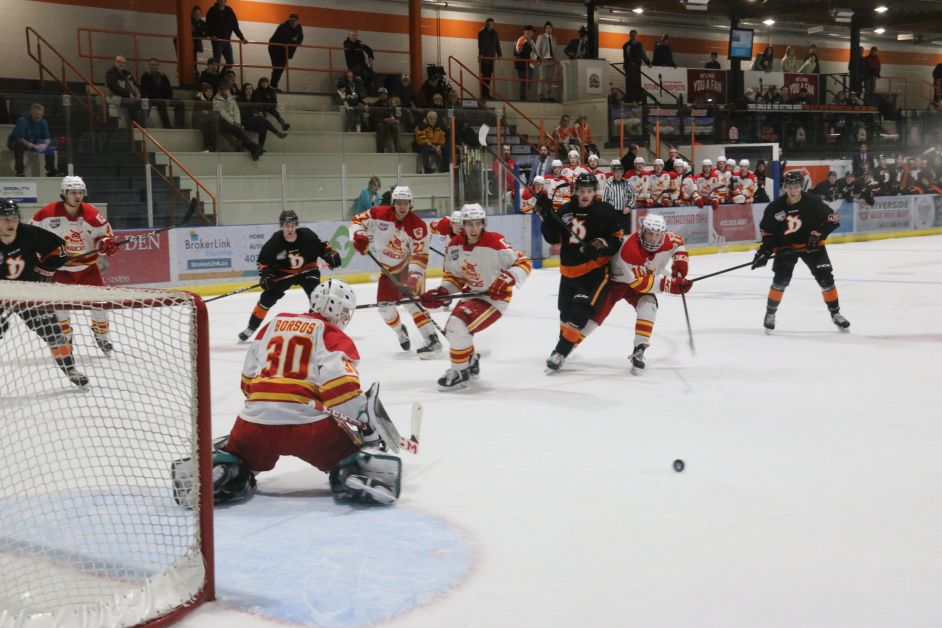 The Dragons are back playing intense hockey into the new year, winning two out of three of their games out of the block.
The Dragons began the new year by hosting the number one Brooks Bandits on Tuesday, January 3.
Brooks led by one after a shorthanded goal with less than a minute left in the first period.
The Dragons began to breathe fire and scored three in a row, to the Bandits scoring one, and led 3-2 after two periods.
The Brooks Bandits tied it up 7:46 into the third period. Just 20 seconds later, Ty Daneault was charged with a tripping penalty, putting the Bandits on the power play, and scoring the winner. Brooks walked in an empty netter to make it 5-3.
On Friday, January 6, the Dragons were in Olds to take on the Grizzlys. The Dragons outshot the Grizzlys 9-3 in the first period, and with 32 seconds left, Daneault put the Dragons up 1-0. Keegan Beagle scored for the Dragons, but Olds answered back, to make it 2-1 after two periods.
Dylan Glinski extended the Dragons' lead 4:30 into the third, and Jacob Goudreau added one more. Olds kept the pressure up and scored two late goals, but it was too little too late as the Dragons left with a 4-3 win.
On Sunday, January 8, the Dragons hosted the Calgary Canucks. The Dragons didn't waste any time getting on the scoreboard as Sam Simard scored his 15th of the year 2:21 into the game.
The Dragons let loose in the second with goals from Daneault, two from Ty Whitford, Ben Christian and Coy Pighin, Calgary added one to end the second period 6-1. In the third Noah Danielson scored two, and Calgary added one more as the dragons went on to an 8-2 victory. Vann Yuhas had four assists.
This weekend the Dragons are on the road, taking on the Brooks Bandits on Friday, January 13 and the Olds Grizzlys on Saturday, January 14. The Dragons will not be on home ice until Tuesday, January 24, when they play the Fort McMurray Oil Barons in an afternoon game.