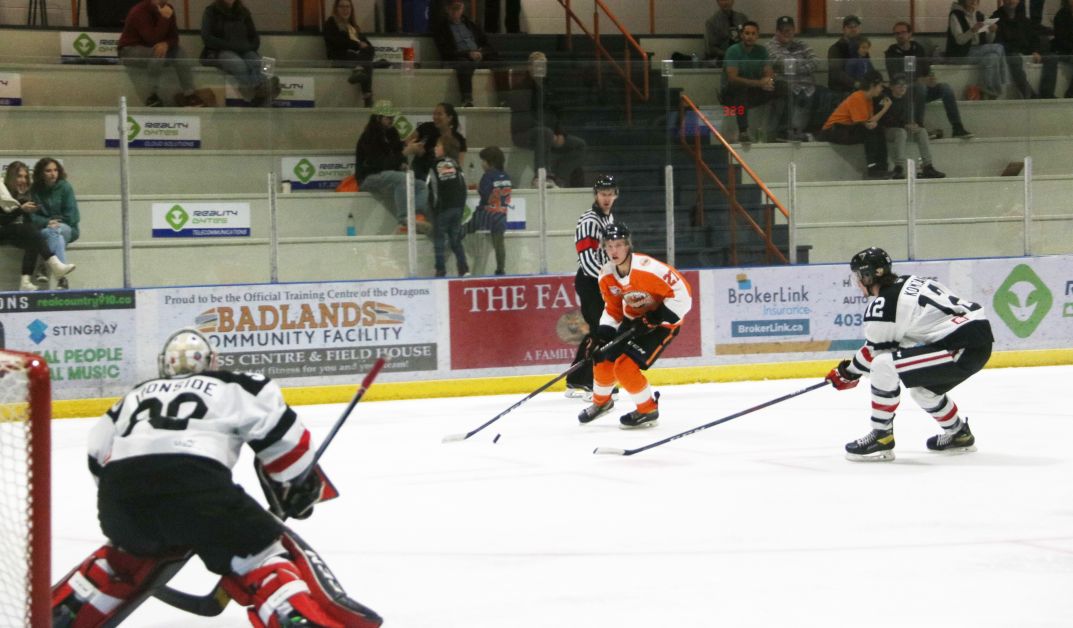 The Dragons earned three out of a possible four points last week as they work their way into the mix of the season.
The Dragons hosted a heartbreaker of a game on Thursday, October 13, at home versus Whitecourt. The Wolverines scored first midway through the first period, but Ryan Henderson scored his first of the season with the Dragons to tie it up after one period. Just over a minute into the second, Whitecourt went up a goal, but Noah Danielson tied it up at the midway point, and Hayden Profosky put the Dragons up 3-2 with four minutes left in the second.
The Dragons outshot the Wolverines in the third period 12-8 and were looking like they were ready to leave the arena with a win, but with six seconds left, the Wolverines tied it up, forcing extra time.
After fruitless overtime, the game went to a shootout, and Whitecourt scored the winner, taking the game 4-3.
On Saturday, October 15, the Dragons were back in the Dragons Den to take on the Spruce Grove Saints, which are number one in the Viterra North Division. After a scoreless first period, Connor Poffenroth scored 1:50 into the second, and Kai Matthew added one more with two minutes left.
The Dragons went up 3-2 in the third, as Ty Whitford scored early, followed by another goal from Vann Yuhas. Spruce Grove finally got on the scoreboard with five minutes left, but Sam Simard scored his sixth of the season to put the Dragons up 5-1 for good.
This Friday, October 21, the Dragons host the Calgary Canucks, and then hit the road on Saturday to play Olds.