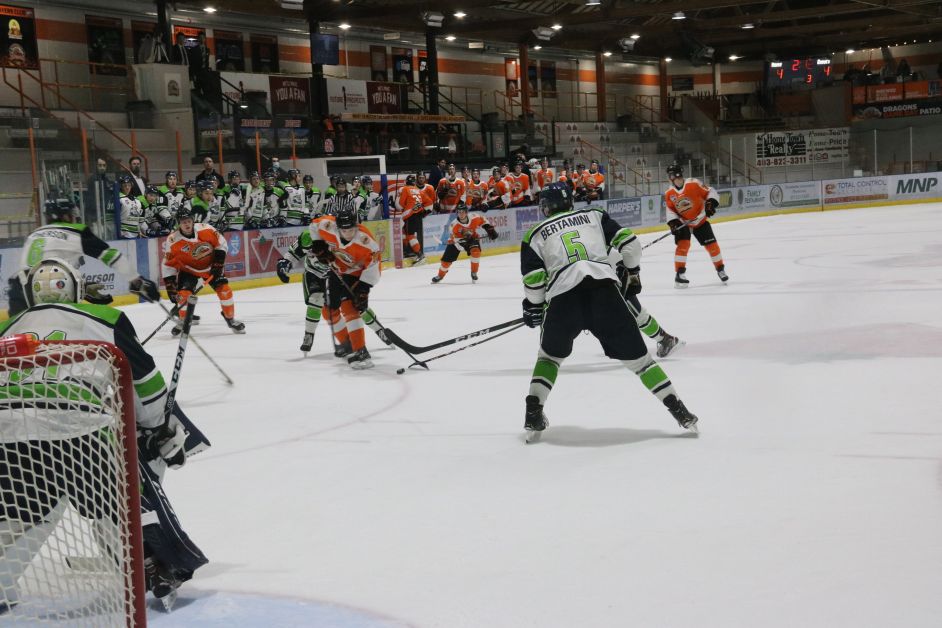 The Dragons were back in exhibition action last weekend, taking on the Calgary Canucks in a two-game series.
On Friday, October 30, the Dragons were at the Max Bell Centre in Calgary to take on the Canucks. The Dragons came out strong, and less than eight minutes into the game, Grayson Dietrich put the Dragons up. Just seven minutes later, Aiden Yakimchuk found the net again. The Canucks answered back to end the period with a 2-1 score.
The Dragons outshot the Canucks 20-9 in the second period and added to their lead with goals from Sam Simard and Kent Anderson. The Canucks closed the gap making it 4-2 with 53 seconds left in the game, but Logan Radmanovich put it out of reach with 11 seconds left. Final score: 5-2 for the Dragons.
On Saturday, October 31, the Dragons hosted the Canucks at the Dragons Den. This time the Canucks got the jump going up by two goals in less than six minutes in. Carter Belitski put the Dragons on the scoreboard but ended the period trailing 2-1. The Dragons were able to take the lead in the second period with goals from Peyton McKenzie and then Simard.
Belitizki scored his second of the game to put the Dragons up 4-2 early in the third period, but the Canucks came back and tied it up, forcing overtime. Just 33 seconds into extra time, Tyson Gross picked up a poorly timed penalty for boarding. The Canucks had a 4-3 advantage and 23 seconds later scored the winner.
Last week the AJHL announced the beginning of the regular season. Before that, the Dragons will be hosting the Bandits this Friday, November 7, and then heading to Brooks to wrap up the exhibition season.