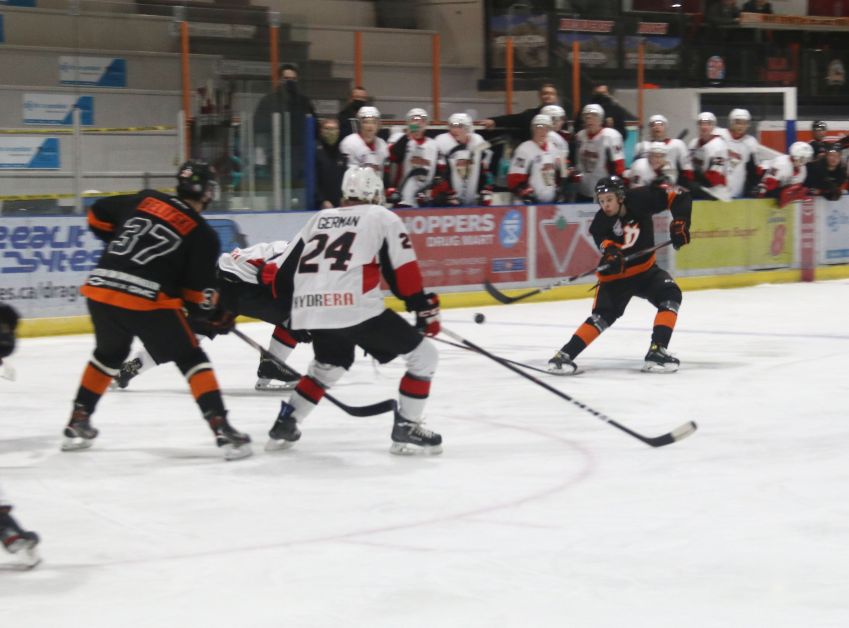 The Drumheller Dragons and the Camrose Kodiaks have completed their six-game series and ended as close as it began on October 9.
The Dragons and the Kodiaks have a matched record, winning two games apiece heading into the game last Friday night, October 23 in Camrose.
The Kodiaks scored first, but Carter Belitski answered back with two and half minutes left in the first period to tie the game. Cyle Clayton scored the lone goal in the second period to put the Dragons up, despite outshooting the Kodiaks 19-10 in the second.
The Kodiaks tied the game eight minutes into the third on the powerplay, but Grayson Dietrich regained the lead five minutes later, also on the powerplay. Logan Radmanovich scored his first as a Dragon to put them up 4-2.
Dietrich added an empty netter with a minute left to seal the win.
The Dragons were back on home ice on Saturday night, October 24, for the final game of the series. The Dragons came out breathing fire and outshot the Kodiaks 16-2 in the first period. Kasey Hiemstra scored at the 12:55 mark on the powerplay to put the Dragons up. The Kodiaks answered back in the second period, and after a scoreless third period, the game went into overtime. It only took 1:40 for Camrose to score.
This wraps up the series, with each team winning three apiece.