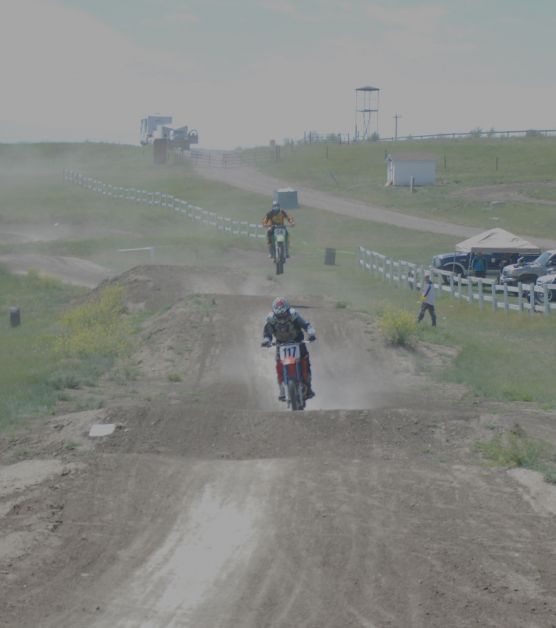 If BSA, Can-Am, and Husqvarna are in your motocross vocabulary, you may have been lucky enough to take in a fun day of motocross at DORVA.
Vintage MX Alberta was on the track at the local motocross club for a special moto on Sunday, July 14, where racers with dual shocks and blue two-stroke exhaust dominated the field.
Mitch Brown, secretary for Vintage MX Alberta said the club has about 60 active members and stage about nine races a year across the province. Earlier this week they were slated to race in Westlock but was cancelled due to the weather. They called up DORVA who were able to accommodate the racers.
Brown says the membership is made up of competitive bikers who race to win, but at the same time have a lot of fun.
"I guess you could call it competitive but non-competitive, it's not serious racing," chuckles Brown.
What makes the club special is the bikes they bring to the track. The vintage class is typically bikes built earlier than 1974, that have twin or mono-shock suspensions, the EVO class is for bikes generally 1981 and older, and the GP class is for bikes that are up to 1990 and allows disc brakes and water cooled engines.
"We are all ages, all skills, but our motorcycles are all 1990 and prior," he explains, adding nostalgia plays a part in the charm.
"A lot of guys get to be a certain age and they realize they weren't part of motorcycle racing. They fell out of bikes while they were in family time."
He adds it is a cheap alternative to auto racing because you can get into a race ready bike often for less than $3,000.
There was a legend on the track at the race. Steen Hansen is a pioneer of the sport. At 82 he has been racing for almost seven decades and brought Husqvarna to Canada. In 2014 he, along with his wife Marion were inducted into the Canadian Motorcycle Hall of Fame. There is only a hand full of competitive riders of his age in the world.
This year Hansen is sporting 82 on his number plate, and Brown jokes that every year they have to change his number on his membership to match his age.
Local riders Phil Thompson and James Turner were also on the track with the club on Sunday.