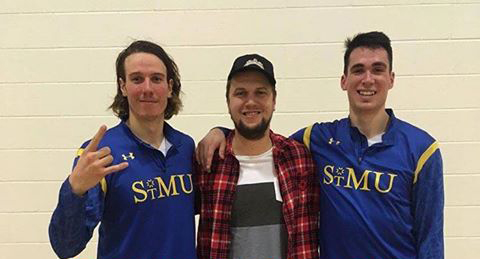 Former Drumheller basketball players are excelling on the court and in the podcast world.
Former DVSS Dyno Jordan Britton is playing in his third year at St. Mary's University basketball, and Alex Cliche is in his second year playing centre. Previously he played at St.Anthony's and DVSS. Both graduated from DVSS in 2012. When they are not on the court, at practice or in the weight room, talk always revolves around basketball. They have taken the next step and joined another DVSS alum Brock Boyd and friend Joshua Groen to create the Double Double Podcast.
We started the podcast basically with a group of us because it is a reason to hang out,' said Cliche. "We talk about basketball anyway."
So far they have put out 15 podcasts, posting them each Monday, for the last three months. Cliche has a radio background, so he is familiar with the audio equipment as well as bringing broadcast skills.
"There has been a learning curve, figuring out everyone's groove, being able to intervene with people without cutting them off, but I feel like we have a good flow," he said.
The podcast has been getting noticed. In fact, they have been mentioned in the annual Best of Calgary poll. Finalists will be announced later this month.
On the court, Cliche is enjoying playing basketball at St. Mary's University. He decided to go back to university and was roommates with Britton. He asked for a walk on try out and was successful
St. Mary's plays in the Alberta Colleges Athletic Association (ACAC) and there is some strong competition.
"SAIT is number one in the country right now and Southern Alberta is usually considered the toughest division to play in. A lot of times when it comes to national tournaments Southern Alberta gets to admit two teams," explains Cliche.
Coming out of high school, he was scouted for football but declined.
"When the opportunity came around (to play basketball), I said let's see if I have a shot. It worked well enough I was able to get on, improve and over time took a more formidable role with the team," said Cliche.
Cliche said the program has helped him develop as a player.
"At high school, it was all about being part of a system. Whereas at the university level, everybody has to be influential. We still run a system and everyone gets touches, everybody gets opportunities, but I am getting more one-on-one coaching so I can be more influential in a game when the ball is in my hands," he said, it is good getting that individual training, rather than just training as a team."
The Double Double podcast is available on SoundCloud as wells as on iTunes.