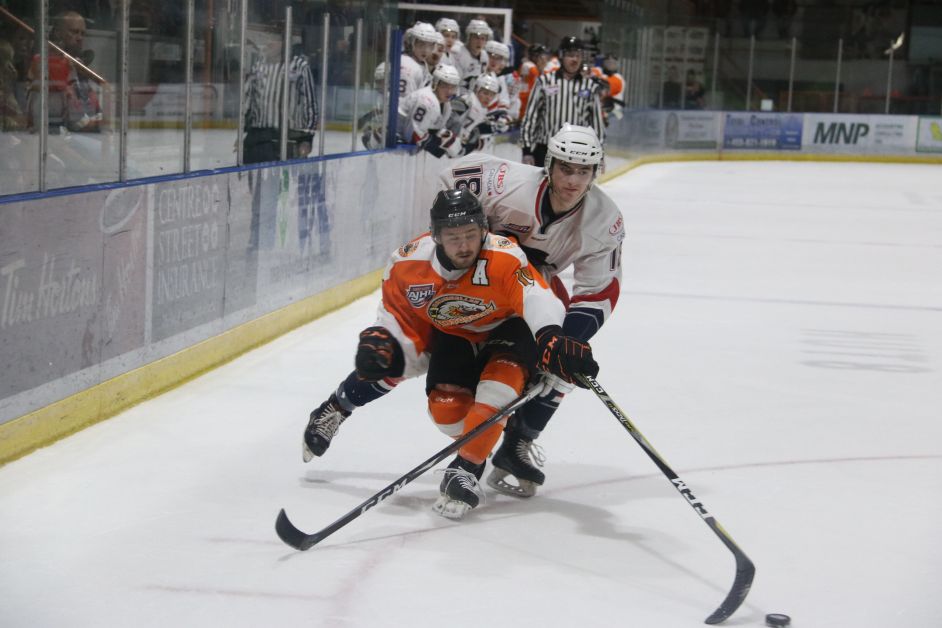 The Brooks Bandits extended their franchise record winning streak to 22 games with a win over the Dragons on Saturday night at the Memorial Arena, securing themselves a first round bye into the playoffs.
The Bandits, who have been a phenomenon at the junior level across Canada, outshot Drumheller 39-25 and won the game 4-2.
Brooks capitalized on the powerplay in the first period, notching two in the latter half of the period. Dragons' Brett Edwards answered back early in the second period with a breakaway goal with an assist from Eric Martin. Brooks would score another in the second period making it 3-1. Bradley Stonnell would make it 3-2 in the third on a powerplay goal trying to tie it up, but Drumheller couldn't even the score and Brooks got an empty netter to finish the game. The Bandits went 2 for 4 on the powerplay and 3 for 4 on the penalty kill.
With the win, the Bandits will receive a first round bye in the 2019 playoffs, with their postseason set to begin in the AJHL South Semifinal, tentatively scheduled to begin March 15.
The loss comes after a big win over the Calgary Canucks on the road on Friday evening, where the Dragons won 6-1 in the Max Bell Centre. The Dragons heavily outshot the Canucks 58-16, with Brett Edwards and Hassan Akl each scoring two, and Shane Ott and Jordan Taupert with the others.