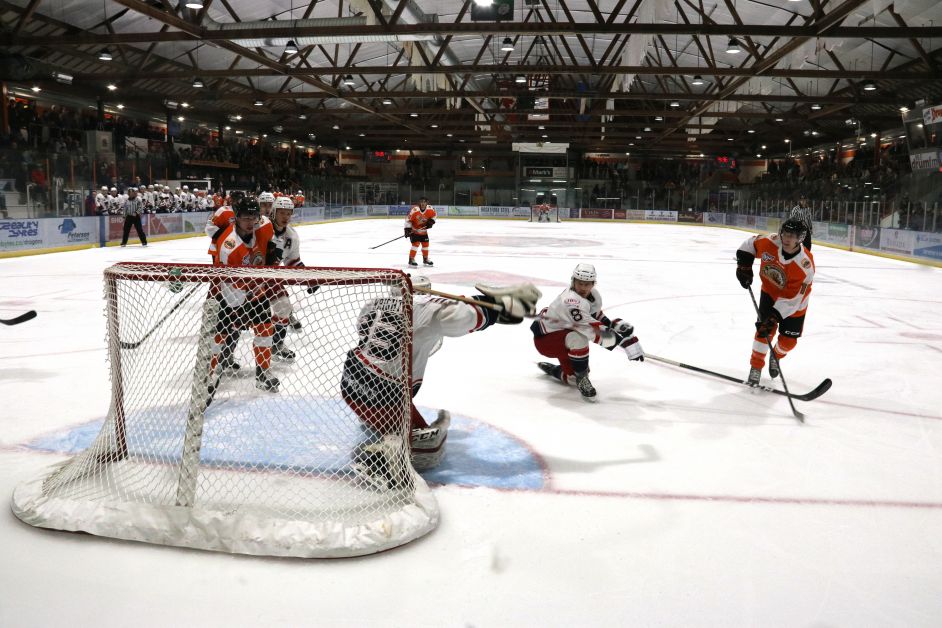 The Dragons were breathing fire to open the season, winning their first two games and outscoring their opponents 15-4.
The Dragons opened the regular season on Friday, September 14 in the Dragon's Den in front of 1,224 fans. First order of business was the Brooks Bandits. While the Dragons dropped two in a row to the Bandits during the preseason, on Friday night the let loose with 11 goals and led the whole game.
"Our guys showed up and played hard and got the results they deserved," said head coach Kevin Hasselberg.
Kaden Hanas opened the scoring just three minutes in on Friday versus the Bandits, followed by Shane Ott on the powerplay. The Bandits scored with about six minutes left in the first period, but Jordan Taupert put the Dragons up 3-1 to end the first period.
The second period was all Drumheller as Braden Nicholetts, Scott Truman, Bradley Stonnell and Brady Risk pushed the Dragons' lead to 7-1. Brooks opened the scoring in the third period, but the Dragons did not relent as Adam Heindel, Brett Edwards and Roc Truman all scored. Taupert scored his second, as the Dragons went on to an 11-3 victory.
The Dragons were 100 per cent on the power play.
"Obviously early in the year you just want to find how you are going to develop chemistry within your lines and I think that stood out for me. You could really start seeing some lines start to gel and work well together," said Hasselberg.
The Dragons continued to dominate Saturday night as they headed to Camrose to take on the Kodiaks. The Dragons outshot the Kodiaks in the first period 15-5, but it took until the 16-minute mark to get on the scoreboard as Brady Risk found the net unassisted. After a scoreless second period, Alex Rotundo put the Dragons up 2-0. Camrose answered back, but Aiden Yakimchuk and Shane Ott each scored as the Dragons won 4-1.
Rookie Shane Ott was named the fist 2018-2019 Canalta Hotel Player of the Week posting 2 goals and five assists to lead all players with seven points.
The Dragons have a busy week. Tuesday night they hosted the Canmore Eagles, results not available at to press time. On Friday they are back in Brooks for a rematch, and then on Saturday, they head to Okotoks to take on the Oilers.
"We want to get better. I think the quality of teams in the south division this year is really going to challenge teams to be at their best all the time. We are going to see a lot of that this week," said Hasselberg.