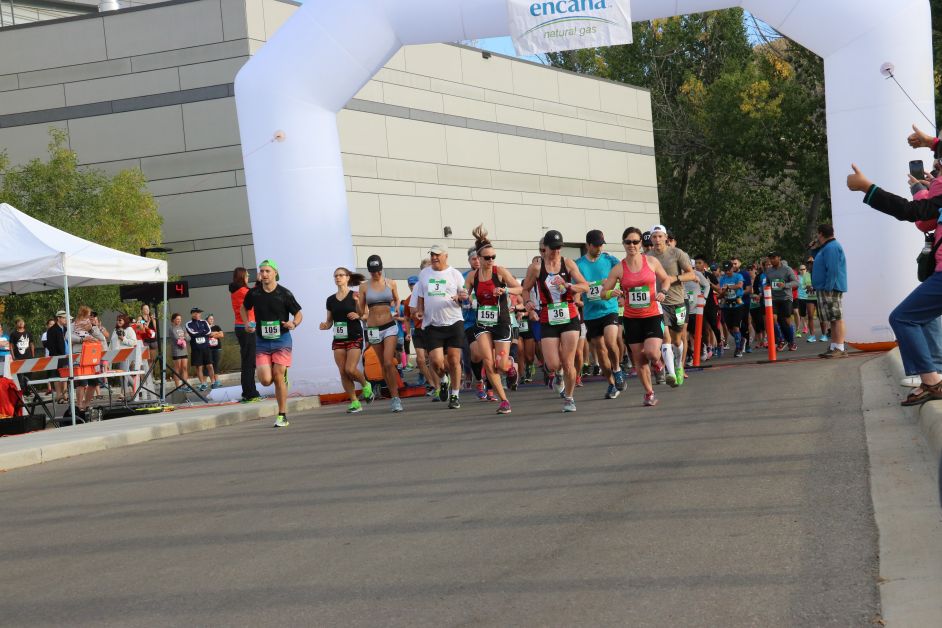 The Dinosaur Valley Half Marathon is about a month away and already there are more than 260 registered for the event.
This is the ninth year for the event that has unparalleled vistas that take in everything from the Red Deer River Valley to the spectacular badlands. The race is popular with local runners and many from across Alberta.
The event goes on Sunday, September 9 and includes a 5k family run, a 10k road race, and a half marathon. The course has been Certified by Athletics Canada.
Race organizer Morgan Syvertsen says they are getting close to purchasing its own race arc, which would be a welcome addition to the race.
Going into its ninth year, the event remains popular and this year it appears that registration is strong. Of the registrants, more than 100 are for the full half marathon and over 70 are signed up for the 10k. The 5k family event is a walk /run so it is accessible to racers of any ability.
Syvertsen says when looking at the race roster, he is seeing a wide array of racers coming from all over the province and Saskatchewan. There are even registrations from New Zealand and Germany. He adds there are many local runners taking on the course for the first time.
"Many say we are their favourite race and it is because of the volunteers," he said.
The race also gives back to the community. It has been a great supporter of the community through donations to the Badlands Community Facility, mental health, the food bank and it helped to purchase starting blocks at the Aquaplex.
There are awards for the top 3 finishers in each race and medals for all participants.
The early start for the half marathon is at 7:30 a.m. This is for participants expecting to take longer than 3.5 hours to complete. The general start for the half marathon is at 8:30 a.m., the 10k at 8:45 a.m. and the 5k at 9 a.m.
Registration is open to those wishing to learn more or sign up can go to www.dinosaurhalf.com