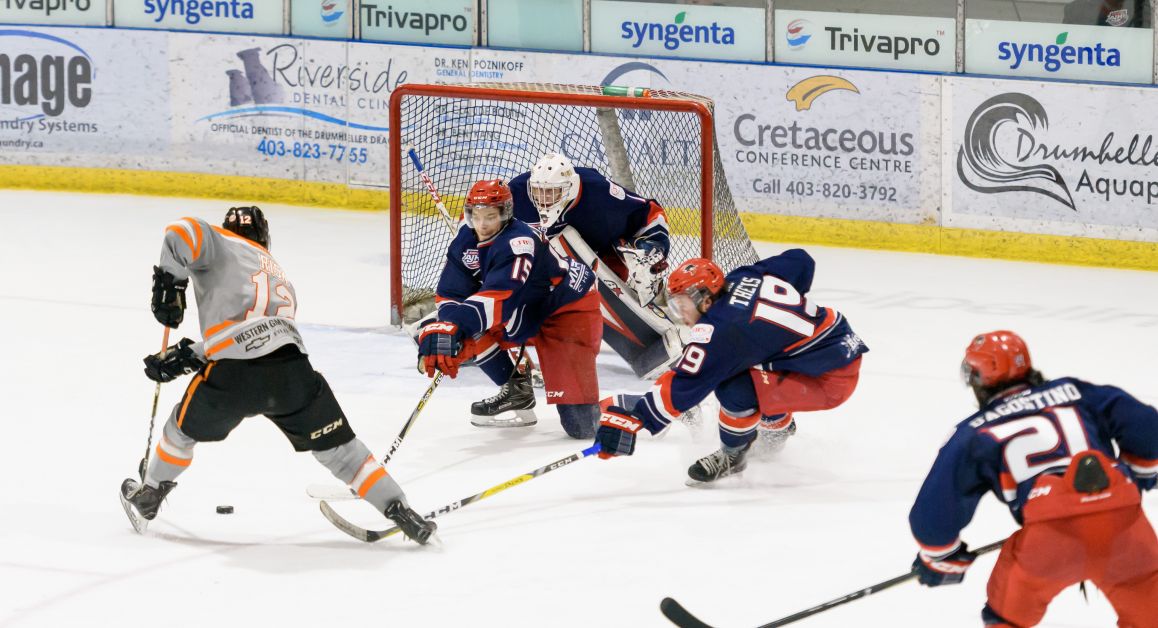 The Drumheller Memorial Arena held an intense energy as the community came out to support the Drumheller Dragons on Sunday, March 25.
1386 people were in attendance to watch the most highly anticipated game of the season. The Dragons entered the game winning the previous two but lost three. This game was the determining factor to whether the team would advance to Game seven for a final showdown against the Bandits before possibly moving on to series three against the Okotoks Oilers.
The Brooks Bandits came out of the gate with a fire in their belly's as the rival team scored 11 seconds into the first period. The Dragons later replied, scoring at 10:28 thanks to Brayden Nicholetts who was assisted by Dawson Bruneski.
Bandits took advantage of the second period by scoring two goals, one of which was on the power play. Not even four minutes later, they scored their third goal making the score 3 – 1.
Many seemed to be holding their breath during the third period. Brett Edwards made the first goal of the period at 3:05 assisted by Alex Rotundo and Jordan Taupert.
Bandits came back to score two more goals before the Dragons managed to score off the power play by Brayden Nicholetts from Tyler Krecklewich and Andrew Kartusch.
The Dragons were unable to keep up as the Bandits put their 6th goal on the board, making the score 6 – 3.
As for power plays, the Dragons were 1 for 4 and the Bandits were 1 for 6. The Dragons had 21 shots on net to the Bandits 27.
Brooks took the best of seven series four games to two.
The Bandits will now advance to the next series against the Okotoks Oilers this weekend.
Photo Caption: Drumheller Dragons Forward Brady Risk charges the net on Sunday, March 25, during Game 6 of the second series of playoffs against the Brooks Bandits at the Drumheller Memorial Arena. Bandits players Jacob LaPointe, 15, Jack Theis, 19, David D'Agostino, 21, and Goalie Mitchel Benson, 1, attempt to counter the offense. Mailphoto by Terri Huxley