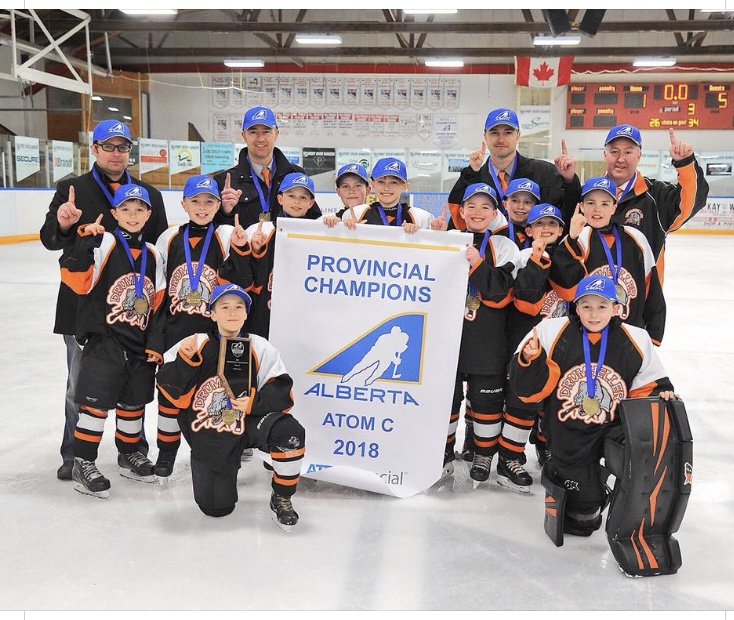 After an undefeated week in Spirit River, the Yavis Atom Raptors boarded a bus home as provincial champions.
Last weekend the Raptors captured their league banner, and then headed north for the ATB Alberta Atom C Provincial Tournament. They took it all the way to the championship, and they did it in style.
"They played excellent from the first game to the last game," said coach Bryan Olsen.
The Raptors opened the tournament versus the host team on Thursday, March 15, and beat Spirit River 12-3. On Friday, they took to the ice versus Ponoka and won 8-4. On Saturday, their winning ways continued as they bested Wabasca 12-7.
On Sunday, the Raptors were in the semifinals versus Westlock and won 5-1. This put them in the final versus New Sarepta.
New Sarepta scored first, but Tom Scobie answered back three minutes later. Chase Mackey put the Raptors up 2-1 after one period.
Two minutes into the second period, Mackey added his second. Chase Maunula added a goal at the 12-minute mark putting the Dragons up 4-1. Ryan Schrock found the net midway through the third period as the Raptors went on to a 5-1 win.
"The other team was always getting the first goal on us and we always fought back and we shut them down after the first goal," said Coach Olsen. "The kids worked well together. They have been working all year towards this."
This wraps up the season for the Raptors, but the future bodes well for the team.
"Three are moving up to Peewee and the rest are sticking together. So we have a really good group of kids and we'll have an excellent team next year," said Olsen.