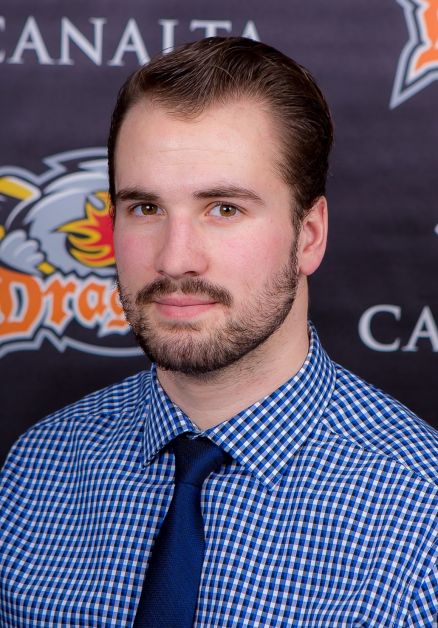 Another Dragon is on his way to playing at post-secondary level as Cody Young commits to the University of Alberta Augustana University for the 2017-2018 season.
The 1996-born forward, originally from Saskatoon, will be playing for the Vikings in the Alberta College Athletics Conference (ACAC) Men's Hockey League.
"He also played a huge role helping Drumheller make the playoffs during an injury-filled season. He was a player that left everything he had on the ice and will be a valuable addition to the Augustana Vikings Men's Hockey Program," said Dragons head coach Kevin Hasselberg.
Young came to the Dragons from the Spruce Grove Saints in November of the 2016/17 season. With the Dragons, he played 42 games with 19 goals and 15 assists.
Over the course of Cody's junior hockey career, he spent time with the Kindersley Klippers, Spruce Grove Saints, and the Dragons for career totals of 70 goals, 94 assists for 164 points. Cody was also selected to represent Team Canada West at the World Junior A Challenge during the 2014-15 season.
"Cody had a tremendous junior career contributing to the success of the three Junior Programs he played for. He was instrumental leading the Kindersley Klippers into the playoffs in both of his seasons in the Saskatchewan Junior Hockey League playing 19 postseason games," said Hasselberg.
As a Viking, Young will be joining former Drumheller Dragons Cody Fiala and Curtis Skip, and a number of AJHL alumni.