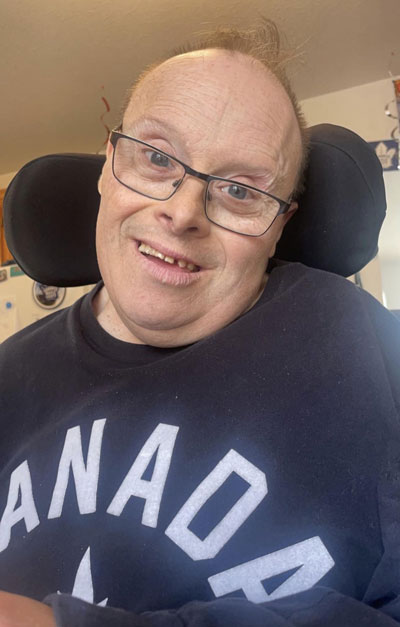 In Loving Memory of a Remarkable Young Man
RAESSLER
Jonathan Andrew Charles
September 14, 1973 - July 18, 2023
It is with profound sadness and heavy hearts that we announce the passing of an extraordinary young man, Jonathan, who left this world far too soon. 'On September 14, 1973 - July 18, 2023, he touched the lives of many with his infectious smile, kind heart, and indomitable spirit.'
Born and raised with love and care, Jonathan was a beacon of light from the very beginning. His warmth and compassion knew no bounds, and he had an innate ability to make everyone feel seen, heard, and valued. Throughout his life, he effortlessly formed deep connections with people from all walks of life, leaving an indelible impression on those fortunate enough to have known him.
A true epitome of perseverance, Jonathan faced challenges with courage and unwavering determination. He never allowed setbacks to define him but instead used them as stepping stones toward personal growth and self-discovery. Despite the hurdles, his passion for life remained undiminished, inspiring everyone around him to embrace their own journey with equal zest.
Jonathan had an insatiable thirst for understanding, knowledge and learning. His curiosity was matched only by his desire to make a positive impact on the world. He pursued his life with unwavering dedication and pursued various interests, whether it be in music, dancing, singing, bowling, camping, riding a bike or whatever his heart desired. His enthusiasm was infectious, and he motivated those around him to pursue their passions with equal fervor.
A deeply caring and selfless individual, Jonathan consistently went out of his way to help others. He embodied the essence of compassion. His empathy and generosity left an everlasting legacy, touching countless lives and reminding us all of the profound impact one person can have on the world.
Jonathan's absence will leave a void in the hearts of his family and friends that can never be filled. He is survived by his mother Dellas, brothers Calvin (Terri, Austin, Chase), Kendall (Melissa, Kyla, Amanda, Brooke), Dwayne (Sharolynne, Courtney, Taylor) and sister Audrey (Ashley) and many aunts, uncles and cousins who will forever cherish the precious memories they shared with him. Now in eternal peace, Jonathan was predeceased by his beloved father (William, 2011), grandparents and many aunts, uncles, cousins and friends.
Special thanks to Trish, Nikki (daddy), Justin (shorty), Alex, Nidheesh (Charlie), Jiyash (relish), Joel and their families for being Jonathan's extended loving family who gave his life that extra special meaning through continuous love, care and support. Also, Thank you to OACL for providing Jonathan's care for so many years.
In honoring Jonathan''s memory, let us strive to carry forward his legacy of love, compassion, and resilience. Let us remember the joy he brought into our lives and the invaluable life lessons he imparted. As we grieve his departure, let us also celebrate the gift of having known such a special soul, grateful for the time we were blessed to spend with him.
A memorial service to celebrate the life of Jonathan will be held on Wednesday, August 2, 2023 at 1pm in the Delia Community Hall. Family, friends, and all those touched by his extraordinary presence are invited to join in commemorating a life lived with passion and purpose.
The family kindly requests that any donations be made to a cause close to Jonathan's heart, Special Olympics Olds District 5417-49 Avenue Olds, AB T4H 1G5 or e-transfer soaolds@gmail.com in support of continuing the things he held dear.
Though we bid farewell to Jonathan in physical form, his essence will forever remain in our hearts, guiding us through life's challenges and inspiring us to be the best versions of ourselves. May his soul find eternal peace, knowing that he made this world a better place simply by being a part of it.
Rest in peace, dear Jonathan.
You are deeply loved, profoundly missed, and your memory will forever be a blessing to us all.
Courtney-Winters Funeral Home in care of arrangements.