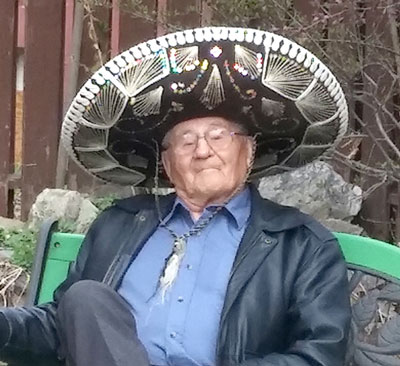 HEINRICH
Emil
January 21, 1931 Carbon, Alberta
May 29, 2023 Airdrie, Alberta
It is with joy and sorrow that we mourn the passing of our father, Emil Heinrich, at Bethany Airdrie, May 29, 2023, at the age of 92. We are so thankful that Emil can be with the Lord and that his journey here on earth is over.
Emil is lovingly remembered by his three daughters, Marlene Wisniewski (Ed) of Calgary, AB, Marge Ludwig (Arnie) of Strathmore, AB, and Kathy Heinrich of Surrey, BC; his grandchildren, Michelle, Nicholas, Julie, Michael (Tammie), and Chris (Jessi); his great-grandchildren, Danielle, Hailie, Terri-Lynn, Tyson, Cody, and Avery; and great-great-grandchild Wilder, as well as his sister Gladys Roths of Three Hills, AB and sister-in-law Regina Heinrich (Arthur) of Linden, AB.
Emil was predeceased by his wife Elvira Heinrich (Walters), his parents, Ottilie Heinrich (Stumm) and Theodore Heinrich; his sisters, Herda Berreth and Ida Dorn; and his brother Arthur Heinrich.
Emil's favourite saying was Man-a-livin' and will be most remembered for his strong faith, sense of humor and his love for people.
Emil was born at the Kirby farm, close to Hesketh, AB on January 21, 1931. He lived in the Hesketh area most of his life and attended school in Hesketh until Grade 8. He helped his family with the farm and eventually him and his siblings took over running things for Grandpa Heinrich. He would work as fast as he could so that he could spend as much time playing. He loved swimming, skating, snaring gophers, fishing and doing whatever fun things he could think of. As long as the work was completed, his parents didn't care where or what he was doing.
In July 1952, Emil met a sweet young lady, Elvira Walters, while standing up at the wedding of his sister, Herda and Elvira's cousin, Roland. Of course, Emil was his goofy self and charmed Elvira into falling in love with him. They were engaged in November 1952, and married a year later.
After they were married, they bought a farm close to Hesketh and lived there until 1974 when they sold three quarters of their land with the buildings and moved to Hesketh. During their marriage Emil and Elvira were very involved in Zion Baptist Church, the Hesketh community and very active in their children's lives. At Zion, Emil served as Sunday School Superintendent, Deacon, usher, a substitute for Sunday School teachers if needed and ushered at the Passion Play. He was always ready to help if there was a need.
After 47 years of marriage, Elvira passed away in December 2000. Emil's main purpose in life became serving the Lord through Mission work. This started in 2002 when he went to Haiti, later for YWAM (Hawaii), and finally Christlike Ministries (Mexico).
Emil lived in Hesketh till 2016, moved to a house in Drumheller, the Sunshine Lodge, Hillview Lodge, Drumheller Continuing Care and finally to Bethany Airdrie. Emil recently contracted pneumonia and had several falls which caused him to decline very quickly and eventually led to his passing.
We are so thankful for the wonderful staff at Bethany Airdrie. They were so friendly and helpful during Emil's stay and made his final days very comfortable.
Funeral Services were held at Zion Baptist Church (Township Rd 22-2 and Highway 9) on Saturday, June 3, 2023. Condolences, memories, and photos may be shared and viewed at www.MHFH.com.
If friends and family so desire, donations may be directed to Christlike Ministries, (Box 149, Warman, SK, S0K 4SA).
In living memory of Emil Heinrich, a tree will be planted in the Ann & Sandy Cross Conservation Area by McInnis & Holloway Funeral Homes, Airdrie, 300 Towerlane Drive, Airdrie, AB T4B 3L8, Telephone: 403-948-1100.
McInnis & Holloway in care of arrangements. 403-243-8200
You may wish to email your family and friends to let them know that the above obituary may be viewed online at: www.mcinnisandholloway.com