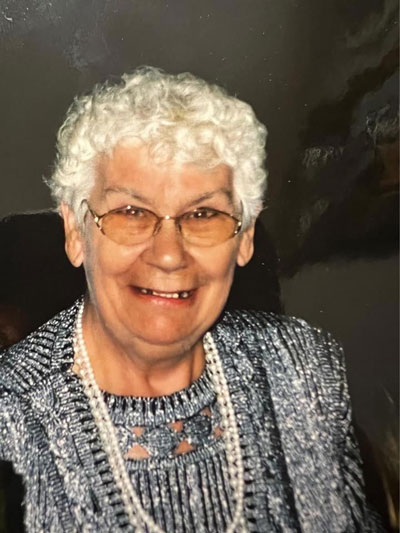 GALLAGHER
Betty/M. Elizabeth
January 31, 1927 - April 19, 2023
BETTY/ M. Elizabeth Gallagher passed away April 19th, 2023 at the Drumheller Health Centre with family by her side.
Betty was born at the Drumheller Hospital January 31, 1927 to Robert and Jane Steel (Howe). She grew up on the farm in the Orkney area and spent her time with friends and family riding, working and attending the local school and then living at the Drumheller High School Dorm and attending High School.
Betty married Edward Gallagher and together they raised seven children.
Betty began to work when her eldest child was about 14 and she loved working with people and taking care of them, which she did at the Drumheller Auxiliary Hospital. Later she moved on to the physiotherapy department. She loved to go out for coffee with friends and continued that tradition to within about 3 weeks of her passing. She was an avid gardener taking great pride in her flowers. Betty was strong, self-confident, and conscientious of others. She often drove around and checked on what each of her children were up to. Betty's door was always open, enjoying family and friends.
Betty leaves behind 7 children; Elizabeth Jane/BJ Gallagher, Paddy Hunter (Wilf), Reg Gallagher (Debra), Susan Hodgson (Keith), Debby deGraaf (Jack), John Gallagher (Brenda) and Joe Gallagher (Charlene), 19 Grandchildren, 27 Great-Grandchildren and 5 Great-Great-Grandchildren.
Betty also leaves her best friend Ron Stanger who added much to her life with his friendship, rides in the country, morning coffee, dinners out, etc. We will be forever grateful to Ron for the time he spent with Mommy enriching her life the way he did. Best friends are so important.
Betty was predeceased by her husband Edward, infant son Martin, granddaughter Brittany Gallagher, parents Robert and Jane Steel, sister Evelyn Sargent, and brother Robert Steel.
The family would like to express our extreme appreciation to the Doctors, Nurses, and staff at the Drumheller Health Centre for the wonderful care they provided during her final weeks.
We will be holding a Celebration of Life on the May Long Weekend.
Courtney-Winters Funeral Home in care of arrangements. 403-823-2666