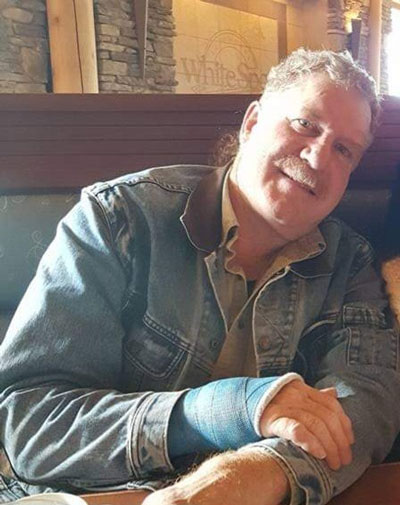 GREENE
Dennis William
"Denny" "Den"
"Big Red"
July 22, 1955 - February 6, 2023
Dennis was born in Drumheller, Alberta to Gordon and Margaret Greene. He was the middle child of three children. He is survived by his Father Gordon, older brother Dale Greene (wife Leanne, and nephew and nieces Chris, Lana, Stephanie, Jessie) and younger sister Wendy Greene (significant other Metro, nieces Maggie, Sadie) Dennis is also survived by two children he loved very much. His daughter Denise Ocampo (Richard) and grandchildren Aaron, April ( Ty, and great granddaughter Lily) and son Graham ( Jasmine, and great granddaughter Ozzy) Dennis was predeceased by his Mother, Margaret Greene.
Dennis worked throughout his early teens and into his early twenties with his father, eventually venturing away from his Dad's company into his own company DW Greene Construction which he mostly ran out of Hanna, Alberta. Dennis took pride in his work and loved what he did. He enjoyed working with his hands and could make something out of anything. He enjoyed a challenge and was not afraid of anything, including heights, as he worked many years on rebar.
Dennis loved the outdoors. He loved riding his bike. He was a hunter, a fisherman, and in his youth he was an amazing water-skier, and also played hockey for a good portion of his life. Dennis would make time for anyone especially the old, young, and the disabled. Dennis could make almost anyone smile and loved to have colorful conversations with anyone who crossed his path. He would give you the shirt off his back if he had it to give.
Dennis died suddenly of heart failure in Kamloops where he had just moved. Dennis had loved that area since his early twenties and had long said that is where he wanted to retire.
There will be no funeral held as the family is planning a small campout at a later date and time. The entire would like to thank everyone for their well wishes and condolences. Donations can be made to the Heart and Stroke Foundation in lieu of flowers.