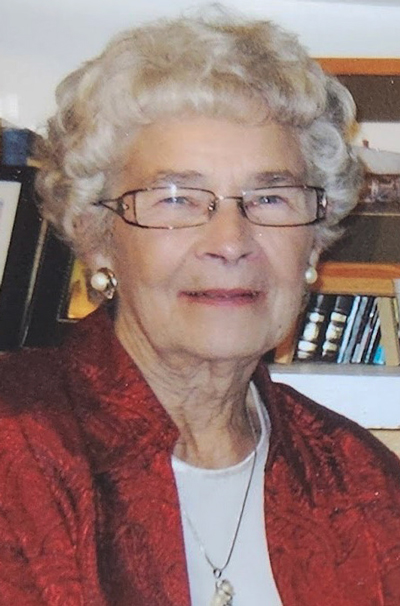 LOWEN (MCKEE)
Louisa Jean
December 22, 1933 - November 25, 2022
It is with great sadness that we announce the passing of our beautiful and strong mother, Louisa at the age of 88 at the Drumheller Continuing Care Unit.
Louisa, oldest daughter to Tom and Gertie McKee, was born in Drumheller, Alberta and her family resided in Delia, Alberta until 1945 when they moved to what was then, Gus Anderson's farm, located in the Taylor Siding Area. Louisa attended the Robson Lake School until grade 9 and then completed her high school education at the Drumheller High School. She continued to further her education at business school in Calgary. Upon completion of her business degree, Louisa worked at the Drumheller School Division #30 office and then at the Midland Coal Mining Company.
Louisa married the love of her life, Ralph Lowen in 1956 and lived in Midland until 1958 when they moved to their farm southwest of Drumheller also in the Taylor Siding area. In 1959, Louisa and Ralph welcomed Judith Louisa, followed by Cindy Mae in 1961 and to complete their family Douglas Ralph arrived in 1963.
Louisa and Ralph loved Rodeo and were very involved in the Red Deer River Roping Club and the Drumheller Stampede Board, but what Louisa loved even more was being a mom, Grandma and GG. You could always find her in the stands cheering at rodeos, hockey games, school sports, wherever her children and grandchildren were participating.
Louisa was a fantastic cook!! She loved baking, especially making pies. She ran her Lunch Box wagon at many auctions sales serving up hamburgers and hot dogs as well as too many slices of pie to count. She continued with her business savvy and became a regular site at the Horseshoe Canyon viewpoint scooping many a delicious ice cream cone on a hot summer day in her custom-made ice cream trailer. At branding time, Louisa would cook an amazing roast beef dinner with the best gravy for mashed potatoes ever and at least 3 Flapper pies and a carrot cake for dessert. Needless to say, it was more about her cooking than branding.
Louisa was predeceased by her loving husband Ralph, her parents Tom and Gertie and sister Marion. Left to mourn her loss are Judy (Doug) Goodine, Cindy (Bruce) Groeneveld, Doug (Laura) Lowen. Grandchildren, Kayley (Ryne) Johnson, Cole Goodine, Stacey (Jordan) Groeneveld-Ryan, Codey (Terra) Groeneveld, Krista (Mike) Connell, Courtney (Kyle) Feely, Carter (Allison) Lowen, Cagney (Dylan) Lowen. Great Grandchildren, Paige, Payton, Aisley, Sadie, Emma, Olivia, Ryker, Ava, Lenix and Hadley, Brother Howard (Joy) McKee, sisters-in law Vi Lowen and Gwen Cassidy as well as numerous nieces, nephews and cousins.
A Celebration of Life to honour Louisa will be held on December 8th, 2022 at 2pm at the Munson Community Hall. In lieu of flowers, donations can be made in her memory to S.T.A.R.S.
Courtney-Winter's Funeral Home is entrusted with arrangements.