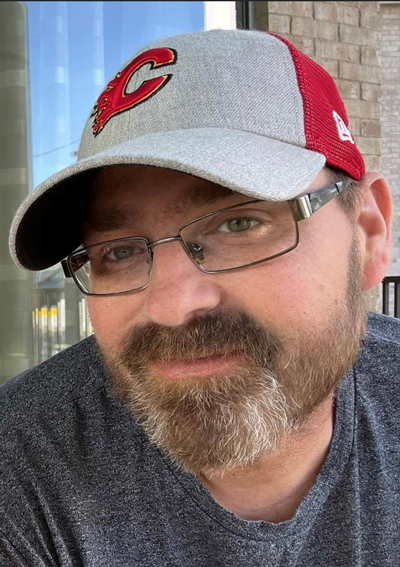 COLLETT
Casey Cameron
August 16, 1981 - November 19, 2022
It is with so much sadness that we announce the passing of Casey Cameron Collett on November 19, 2022.
Casey was born on August 16, 1981 in Calgary, Alberta. He grew up in Hussar, and aside from working in Calgary with his Dad, Hussar is where he chose to spend his life with his love, Pam and their 2 children, Dayne and Kali. Casey was an avid sports fan, he loved his Calgary Flames and Stampeders but more than anything he loved watching Dayne play hockey and lacrosse and Kali play volleyball. He was so proud of all of their accomplishments and will always be their biggest fan. Casey was a man of great patience, which he put to the ultimate test with his favourite hobby; he could sit and play poker for hours. This passion sent him and Pam to Las Vegas more than a few times, he loved travelling with friends and everything about the city, but of course you always knew where to find him. He was never in a hurry which made him one of the best players around! He spent the summer driving with the top down, exploring southern Alberta in his corvette, which had always been a dream for him. The day he was surprised by his family with his dream car was one of his favourites. Whether it was driving to hockey in the van or playing games at home, Casey was happiest being wherever his family was. Everything Casey said and did was purposeful, he made the people around him feel
special and the love in his heart for those he cared about was infinite. His loss is felt by many.
Casey leaves behind, his wife Pam and his two-favourite people Dayne and Kali. His parents Ralph and Yvonne Collett, Heather Setter and John Cameron, Mike and Anne Letts. Sisters Paige (Brad) Severtson and kids Carson, Grady and Lila and Shelby (Miles) Grisack. His mother and father-in-law John and Rennie Jensen, and brother-in-law Curtis (Lindsay) Jensen and kids Kennedy and Gray, and Grandfather George Comstock. Plus many aunts, uncles, cousins and friends. Casey was pre-deceased by his grandparents Leo and Lila Collett, Fred and Joyce Setter and Jewel Comstock.
There was a celebration of life for Casey at the Hussar Community Hall on November 26 at 2 p.m. If friends so desire memorial donations may be made to the Hussar & District AG Society (Box 1, Hussar, AB, T0J 1S0) or the Agape Hospice (1302, 8th Ave. N.W., Calgary, AB, T2N 1B8). Courtney - Winter's Funeral Homes are in care of the arrangements.