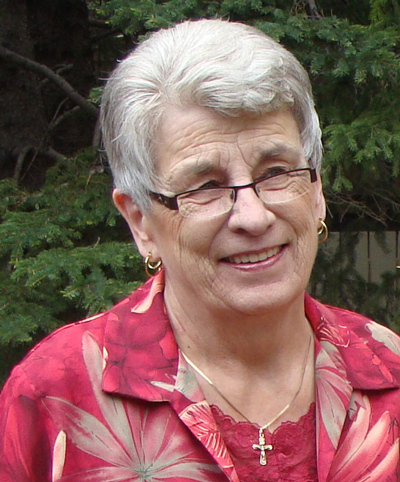 LONG (Going)
Mickie
November 1, 1945 - October 8, 2022
This amazing daughter, sister, mother, granna, aunt, cousin, and friend left us most unexpectedly but surrounded by family love on Saturday, October 8, 2022 at the Rocky View General Hospital.
Mickie (Monte) was born in Cardston, Alberta on November 1, 1945 to Linnea and Meredith Going, and grew up in the picturesque and wonderful community of Waterton Park, along with her sisters Susan, Merna, Judy, and Linn. In 1963, she travelled to Calgary to begin her nursing aide training and it was there she met the love of her life Jim, marrying in 1965.
For 46 years, they called Drumheller and Delia home raising their family, enjoying many friends, and serving the community until Jim sadly passed away in May 2011.
Mickie was the backbone of our family, and she extended her hospitality, love, and genuineness to many, whom she met through her community service, faith, work, and music, including the friends and family who came into the lives of her children and grandchildren. She excelled in making everyone feel at home and welcomed in her presence. Never letting adversity or setbacks hinder her faith, compassion, loyalty, and genuine care for others.
Mickie was all about family – close and extended. There was nothing she loved more than having her friends and extended family for a visit. And through that dedication and devotion, many enjoyed her ultimate hospitality, warmth, along with the benefits of her talent of baking, especially bread and doughgods, and a variety of meals and treats. Her family was the centre of her social life. From puzzles to card games, to impromptu evenings with friends and neighbors; from the celebrations of family and individual milestones to family reunions, music, sharing crafts, scratch and wins (more the
scratching than the winning), sewing, and baking, Mickie provided her family with traditions that will live forever through every generation.
She will be deeply and dearly missed and continually treasured by her sister and best friend Linn (Merv) Ko; her children, grandchildren, and great-grandchildren: Angela (Bruce), Timothy, Elizabeth (Brandon, Rory, River), Tabitha (Brock); Dawn (Kevin), Riley, Reese; Danny (Noelle), Chris (Meghan, Skyla); Katrina; and her niece Erin Ko, along with many treasured and loved nephews, nieces, and cousins from throughout Canada.
Mickie will also be missed by many extended family members including her sister Susan (Tex) Cheese, Kay (Doug) Richards, Patty (Terry) Blocksom, Ken Long, as well as many special friends, as she always opened her home to everyone who stopped by.
We would like to thank the health care professionals of the Drumheller Hospital including Inza, Winnie, continuing care representative Kristina and Dr. Beach, along with the staff at Chinook Intercare, and the nursing Emergency Department and Unit 74 staff and Dr. Nitchke at the Rocky View General Hospital for their gentle, respectful, compassionate care up to mom's unexpected last moments. You have touched our lives in profound ways and the words "thank you" are so inadequate for all that you do.
Prayer services will be held Monday, October 24 at 7 p.m. at St. Anthony's Catholic Church, Drumheller. Funeral mass will be held Tuesday, October 25 at 11 a.m., St. Anthony's Catholic Church, Drumheller, followed by a luncheon at the church hall. In lieu of flowers, donations may be made in honour of Mickie to St. Anthony's Parish, 151 - 3rd Street W. Drumheller, Alberta T0J 0Y4.
There's a path that leads to a turn in the road, and we each must travel there. Where the Father visits to take us home to shelter in his care. Where happiness and peace and joy replace the tears and pain; and our loved ones rest in the arms of God to sweetly live again.