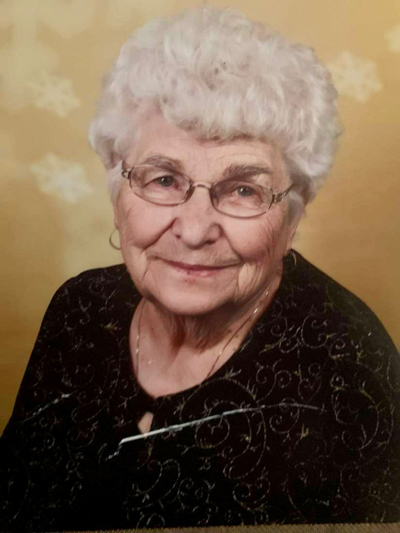 KENNEDY (Sowchyn)
Katie
March 17, 1928 - August 30, 2022
It is with deep sadness we announce the passing of our beloved mother.
Katie Kennedy passed away peacefully on August 30, 2022 at the Royal Alexandra Hospital in Edmonton.
Born in Edmonton on March 17, 1928 to Dora and George Sauchyn, Katie survived her eight siblings, Mary, Annie, Margaret, John, Jim, Al, Walter and Bill.
Katie grew up in Riverdale and married Jim Kennedy in 1953. Their life entailed moves between Saskatchewan and Alberta until Jim's passing in 1983.
After living in Red Deer for a few years, Katie returned to her favourite place - the home of the Edmonton Oilers. Katie enjoyed a busy life which included being an active member of SCONA Seniors Centre. She relocated to Ottewell in 2021.
Katie's interests included sports of all types, country music, knitting, playing cards, cooking, baking and doing puzzles.
Always respected as a hard worker, Katie will also be remembered for her generosity, abundance of energy, and especially her sense of humour. Being a social person, she made and maintained many lifelong friendships.
As a devoted mother, she engaged herself in all her children's activities with enthusiasm and support.
Katie will be sadly missed by her 3 children, Judy Garlinski of Grande Prairie, Lori (Michael) Stefanishion of Drumheller, Don Kennedy (Marina) of Edmonton and stepson Roger (Eleanor) Kennedy of Saskatoon and their families.
Grandchildren Kyra (Walter), Michael (Jenny), Amy (Ryan), Amber, Janna, Jamey, and Dasha will hold precious memories in their hearts forever.
Katie also leaves her great grandchildren Braeden, Katie, Mason, Margaret, Skylar, Bentley, Gracie, Everlie, and Sofia to remember her.
Katie is also survived by her sister-in-law, Olive Sowchyn, numerous nieces, nephews, and many special friends.
Respecting our mother's wishes, her ashes will be interred at a later date.
Friends wishing to honor Katie are invited to make a
donation in her name to SCONA Seniors Centre in
Edmonton.