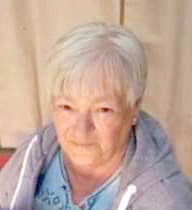 KENDELL
Helen Elizabeth
April 25, 1951 - July 17, 2022
After a courageous battle with cancer, it is with deep sadness we must say goodbye to Helen.
Helen is survived by her partner and best friend Dan, her three sons Dohn (Cindy), Greg (Terina) and Brent
(Melody), her six grandchildren, two great granddaughters, two brothers and two sisters. As well, she has many nieces, nephews and friends that will miss her
dearly.
She was predeceased by both her parents and three brothers as well as her husband Gerry.
We have no words to express our loss. We have no words to describe our grief. We have no words to discuss how much we will miss you.
We do have words to express our love. We do have words to describe our gratitude for how you helped us become who we are. We do have words to discuss all our
memories, our feelings and our thoughts.
Most of all we have these words — We love you.