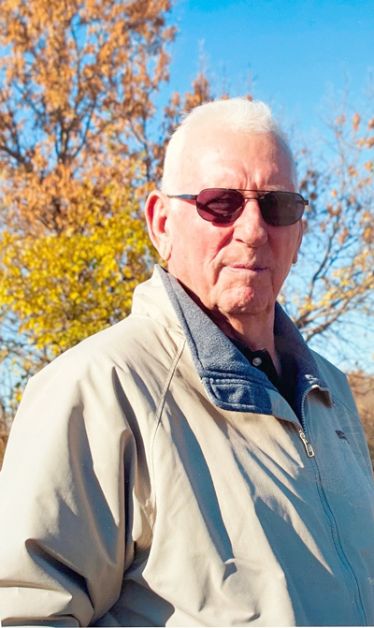 CLARK
Mervin Dennis
December 7, 1936 - May 22, 2022
Mervin passed away peacefully at the Red Deer Hospital, on May 22, 2022, after a brief illness. He was born in Drumheller, Alberta on December 7, 1936, to parents Jay and Nellie Clark.
He was always a farmer until he retired in 2000, first with his father and brothers, and then on his own.
Merv was an excellent farmer and he loved the land, ensuring, even in his final years, that it will be well cared for by future generations.
Merv was an avid curler until he was well into his 80's. Even when he thought he was no longer an asset to his team, his teammates convinced him to continue, and they went on to win their league playoffs for three years in a row! He was always involved in community life, first in the Rosebud and Churchill areas and, following retirement, as part of the Riverside Gardens Condo Association, serving as vice-president for 3 years, and then as a director.
Mervin was a tremendous supporter of numerous charities and community associations, but his biggest contribution to the world was, unequivocally, his unconditional love and support for his family, of which he was fortunate to have had three in his lifetime.
In his Clark family, Mervin was predeceased by his parents, by brothers Garry and Glen, and by sisters, Audrey MacDonald and Judi Clark (Toivanen). He is survived by his sisters Jean Flett, Thelma Bossert (Ervin), Linda Scheck (Lou), as well as his brothers Jim and Larry (Audrey), and numerous nieces and nephews.
He married Hetty Humphries in 1967 and was predeceased by her in 1992. He was also predeceased by two stepsons, John Humphries and Craig Humphries. He is survived by stepdaughters, Adele Meyers and Mary Murphy, grandchildren Brett Humphries, Cheri Woodruff (Bruce), Paul Meyers (Bev), Pierce Meyers (Trish), Laura Van Werkhoven (Eddie), Craig Humphries Jr. (Melina), and Ben Murphy, along with their families.
Merv married Kay Strause in 1994 and they enjoyed nearly 28 years together, never being apart for one single night until his final illness. His last years were filled with happy times; babysitting grandchildren, hockey games, football games, dance recitals, Christmas concerts, and so much more! He will be very sadly missed by his wife Kay, her daughters Kathy Dekeyser and Susan Pollom (Allan), grandchildren Riley Pollom (Tracie), Jessica Voynovich (Curtis), Anna Pollom (Ryan Doornbos), and Devan Dekeyser (Allyson), as well as great-grandchildren, Cameron, Jace, Ella, Abby, and Stevie, to whom he was affectionately known as "GG".
Funeral services will be held at the Munson Community Hall on Saturday, May 28 at 2:00 p.m., officiated by Rev. Rachel Nadon of Knox United Church, Drumheller.
Memorial donations may be made to any of the following:
STARS Air Ambulance (1441 Aviation Park NE, Box 570, Calgary T2E 8M7)
Drumheller Knox United Church (Box 583, Drumheller T0J 0Y0)
Or a charity of choice.
Courtney-Winters Funeral Home in care of arrangements 403-823-2666.