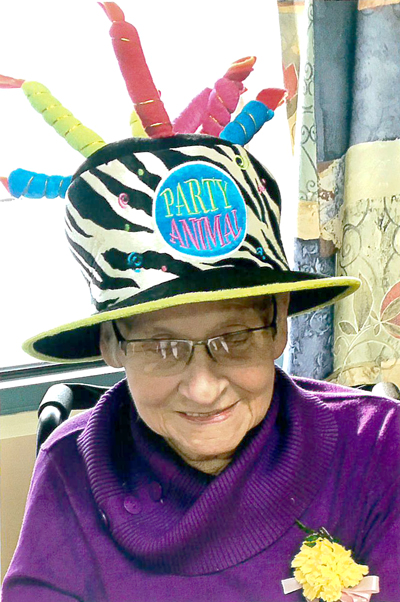 WAKARUK
Martha
March 23, 1924 - January 3, 2022
It is with a heavy heart that we announce the passing of our dear mother, grandmother and great-grandmother, Martha Wakaruk.
Martha passed away on January 3rd, 2022 at the age of 97 at the Drumheller Continuing Care Center where she had been a resident for the past eight years.
Martha was born in Drumheller on March 23, 1924 to Denise and Roger Ragon. Mom would talk with fondness of her family and growing up in what was then called DogTown in Rosedale. She told many stories of family times, early school memories, playing baseball and attending Sunday School. Due to the challenges of the Depression era, she left school as a young teenager to act as a caregiver and housekeeper. In later years, she entered the service industry as a waitress spending over thirty five years, working at the Dallas Café and the Corner Restaurant. Martha was very good at her job. She had a tremendous work ethic, a ready smile, a friendly attitude and an efficiency of task.
Martha met and married George Wakaruk on June 29th, 1946. They would make Newcastle their lifetime home for over 60 years.
First and foremost was Martha's love and commitment to her family of four. In 1983 Martha's eye condition led to blindness. She did not let this disability stop her from remaining in her home or losing her independence. She devised techniques to ensure her home was tidy and windows clean. She attended dance recitals, ball games, graduations and weddings with the same enthusiasm as a sighted individual. She ensured that birthday and Christmas cakes and Rice Krispie squares graced many an occasion. Martha was never bitter as to her blindness. She was always thankful that at least she had seen and that she had two hands. Martha loved listening to Calgary Flames hockey games and could recite team stats as well as any announcer. She was an avid chuckwagon racing fan and would follow the circuit on the radio. We knew never to call or visit during these times.
Martha is survived by her four children. Roger, Gary, Linda (Tim) Murphy and Cindy (Gary) Gerodo. Her pride and joy were in her eight grandchildren, Brent, Chris, Theresa, Laurel, Sean, special visitor Seamus, Tyler and her beloved care advocate Erin. Martha was also blessed with seven great-grandchildren.
Being blind, Mom found the goodness in people in her heart and now, freed from her blindness, she can truly "see" this goodness.
A private memorial service will be held at a later date.