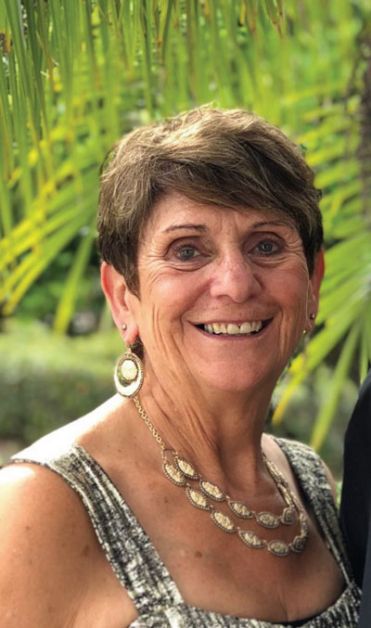 TRENTHAM
Margaret Thereasa Anne
(Mokosak)
March 30, 1949 - November 27, 2019
Margaret Thereasa Anne (Mokosak) Trentham passed away peacefully with her family at her side on November 27, 2019 at the Rockyview Hospital in Calgary, Alberta.
Marg.... Our Mom, Nan, wife, aunt, amazing friend, nurse, fashionista, traveller, domestic goddess, cheerleader, warrior, free spirit, gardener, hairdresser, cake decorator, multitasker... was born to Helen and Carl Mokosak on March 30, 1949 in Blairmore, AB.
Marg was the youngest of three children, she was pre-deceased by her mom, dad, sister Mary, and brother Carl, nephew Dave Mokosak, Harold and Audrey Trentham and Murray (Moe) Trentham.
Marg is survived by her husband Alfred (Dick), daughter Cory (Dwayne) Rowland, daughter Shantel Trentham, son Rich Trentham (Nicole McAvany) and daughter Audrey (Justin) Kurek. Grandchildren Caitlyn Rowland (Andy Macdonald), Mat Rowland (Marinna McDougall), Cole Kurek, Nola Kurek, Laura (Mike) Jarvis, Joyce Mokosak, Tommy Craven, Laura (Steve) Fowler, Alan Craven, Sheila Craven, Carl (Dee) Mokosak, John (Alisa) Mokosak, Michelle (Dennis) Schoonderbeek, Brad (Robin) Jarvis, Vicki (Dallis) Ziegler and numerous other nieces, nephews and cousins.
Mom/Nan loved life, each day was a gift and she lived it to the fullest. Her family was her proudest achievement.
Mom trained as an LPN at the Calgary General Hospital, she graduated in 1968. She met Dick and moved to Drumheller following her graduation. Mom epitomized the definition of a nurse, she brought professionalism, empathy, compassion, knowledge and skill to every patient. Nursing for mom was not a job, it was a calling and she loved every day, she took a position at the Drumheller General Hospital on the surgical and obstetrics unit.
Mom transferred from the hospital to Home Care where she remained employed. AHS honoured mom for her 50 years of service. They asked her to do a video which was filmed on October 25, 2019 following her third immunotherapy treatment for stage 4 bladder cancer.
Mom and dad were married on November 23, 1968. The Coalminer's Daughter from the mountains became a farmer's wife, they built a house in the same yard as our grandparents outside of Morrin in 1973, where they raised their 4 children. Mom became a huge part of the Sunbeam and Morrin communities. No one visited the farm without receiving mom's amazing hospitality which always included a home cooked delicious meal.
Mom loved her family, her friends and travelling...one of her favorite destinations was with her daughters to their vacation home in Florida. She also loved Thunderhoof Ranch her and Dad bought outside of Wasa, BC. Mom loved her Brazilian Family, cruising in her convertible, golfing, going to the casino, Texas Hold'em with the ladies and the odd glass of Merlot.
Special thanks to Dr. Marty Duffy, Dr. Tina Cheng, Dr. Trevor Haines, Lance and the staff of Unit 82 and Dr. Jain.
Please join us in Celebrating Mom's life!
Catholic Mass at 11 a.m. at the Drumheller St. Anthony's Catholic Church on Monday, December 9, 2019. Reception to follow at the Badlands Community Facility.
In lieu of flowers, we are accepting donations for the Marg Trentham LPN Scholarship Fund.