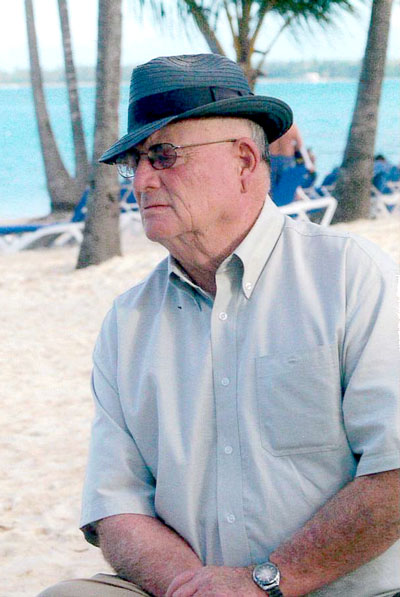 LUCAS
Joseph Alexander
January 4, 1932 - November 29, 2019
Alex (Ruckus) Lucas, beloved husband of Rena Lucas passed away peacefully at home with his family by his side on November 29th, 2019 at the age of 87.
Alex was born in Drumheller to John and Lena Lucas and raised on the farm near Munson. Alex and his brother, Bob, took over the farm from his Dad when he was 16. He met Rena and had a short courtship before being married on October 31st, 1953. They celebrated their 66th wedding anniversary this year and their relationship was the truest testament of love. Alex and Rena started their family in 1956 raising two daughters, Diane and Sandra. He continued to farm until he retired at 49. They then moved to Drumheller but he was able to continue his love of farming by helping his daughter, Sandra, and son-in-law, Bob, on their family farm for many years. He was able to pass on his passion and knowledge of farming to his grandson, Alex, as well. He was so proud to have 3 generations working together on the land that he still owns today.
Alex was known for his infectious laugh that could be heard wherever he went. Whether he was volunteering for many years with the Drumheller Lions or telling stories at McDonald's coffee, Alex will be remembered for his jovial personality and life sized heart. Alex always made time to talk to people. He loved to reminisce about the good ol' days and would often be sharing about the days on the farm or talking anything cars. He loved vehicles, driving them, talking about them, and buying them.
His family was his number one priority and they always came first. He loved each one of his family members and his family knew he would always be the first one to be there regardless of the ask or the need. Whether this was a quick trip to Drayton Valley, teaching the grandkids to water ski, taking parts to the field, or picking his great-grandkids off the bus. Papa Alex made each moment count and always had a story to tell. To the world he may be one person, but to his family he was the world.
He is survived by his loving wife, Rena; 2 daughters Diane and Sandra (Bob); 4 Grandchildren Denise (Rick), Alex (Rachelle), Stacey (Mike) and Julie (Kevin); his 11 great- grandchildren Aaron, April, Sofia, Nathan, McKoy, Ben, Lucas, Olivia, Makenzie, Lilly and Austin; numerous nieces and nephews; and a very special friend, Ron Stanger.
There will be a celebration of life on Saturday, December 7th at 2:00 p.m. at the Munson Community Hall.
If you would like to make a donation in his memory please consider the Drumheller Heart to Heart Society, Box 162, Drumheller, Alberta, T0J0Y0.