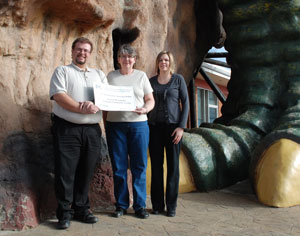 The Drumheller and District Chamber of Commerce is the latest community group to step forward to support the creation of the Badlands Community Facility.
    The chamber, with a membership of over 200 businesses in the community, has pledged $250,000 over five years to the construction of the community facility. They made the announcement public on Monday, March 1, in the shadow of the World's Largest Dinosaur.
    "Our board realizes the importance of this facility," said chamber president Cindy Clark. "The Badlands Community Facility will increase the value of our community as a whole. This is a project we are proud to support and we are encouraging our chamber of commerce members to come forward with their donations to the project."
    She said the board came out strongly in support of the donation.
    The chamber makes every effort to make Drumheller the best place to visit, live, work and do business."
    It was fitting the announcement was made at the World's Largest Dinosaur, because it generated the funds that have been dedicated to the community facility.
    The funds for the donation come from the World's Largest Dinosaur Legacy Fund, a program set up whereby a portion of the funds raised through visitations to the World's Largest Dinosaur and a percentage of the sales from the gift shop are directed back into the community. The donations will be made in installments of $50,000 over the next five years.
    "A facility such as this will be a huge benefit for Drumheller and area," said Heather Bitz, DDCC manager. "This facility will provide another way to attract visitors to Drumheller for sporting events, tournaments, meetings and conferences. This will be an ideal venue to help attract visitors to Drumheller during the shoulder tourism season."
    She adds, the legacy fund will continue to fund smaller projects. Biannually the World's Largest Dinosaur Legacy Fund distributes grants, up to $3,000 to community projects. Recently, the funds have gone to the Badlands Artists Association and Communities in Bloom. These funds are distributed in March and September.
    Badlands Community Facility fundraising chairperson, Jeff Hall, commended the chamber of commerce regarding the work they do for the business community and their recent contribution to this facility.
    "The chamber of commerce is a leader in our community. To have an organization like the Chamber commit to this project at this level, shows there is a lot of community support for the project," said Hall.
    The Badlands Community Facility fundraising committee has a target of $12 million for the complete Badlands Community Facility project. Since November, over $1.7 million has been raised. If you would like to receive more information on sponsorship or pledging opportunities please contact Jeff Hall at 403-823-7800.