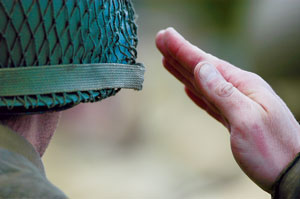 Drumheller and area residents are advised that military training will be conducted within the Town of Drumheller and the MD of Starland during the weekend of March 19-21st 2010. Army Reservists from Calgary and Edmonton will arrive in Drumheller at approximately 12:00pm on Friday March 19, 2010 and participate in the exercise until noon on Sunday March 21st.
The training will be based at the Drumheller Airport and will take place in various areas around the town. This training is being conducted to allow Reserve soldiers from The King's Own Calgary Regiment, The Calgary Highlanders, The South Alberta Light Horse and 14 Service Battalion to work with 408 Tactical Helicopter Squadron and to practice essential military skills. The exercise will focus on developing the soldiers' ability to interact with residents and how to operate in a town or city setting.
CAO for the Town of Drumheller Ray Romanetz said "Residents will notice soldiers carrying rifles, both on foot and in vehicles and helicopters. These soldiers will be patrolling the area, setting up observation posts, doing convoy drills and gathering security information. The security information that will be gathered is part of a staged scenario for the exercise."
Mayor Bryce Nimmo said, "Drumheller has a very significant history with the army and we are pleased that the military chose Drumheller as a location for this operation. I know our residents will be more than welcoming and accommodating for this training session."
Portions of the training will also involve the use of blank training ammunition, so sounds of gunfire may be heard in the area on Sunday March 21st. The local RCMP detachment is aware that this training activity is taking place.